BUY GEORGIA TECH-CLEMSON TICKETS ONLINE
THE FLATS – Georgia Tech will make its second network television appearance of the season next Saturday when it hosts No. 2 Clemson for a game to be shown nationally on ABC, the Atlantic Coast Conference announced on Saturday evening. Kickoff is set for 3:30 p.m. at Bobby Dodd Stadium.
ABC will carry Georgia Tech for the second time in three weeks, as the Yellow Jackets' Sept. 8 game at USF was shown regionally on the network (in parts of the country where it wasn't carried on ABC, the GT-USF contest was shown on ESPN2).
Georgia Tech is looking to take advantage of the national stage by continuing its great success against Clemson at Bobby Dodd Stadium. The Jackets have won five of their last six home matchups versus Clemson and are 44-14-2 all-time at home against the Tigers.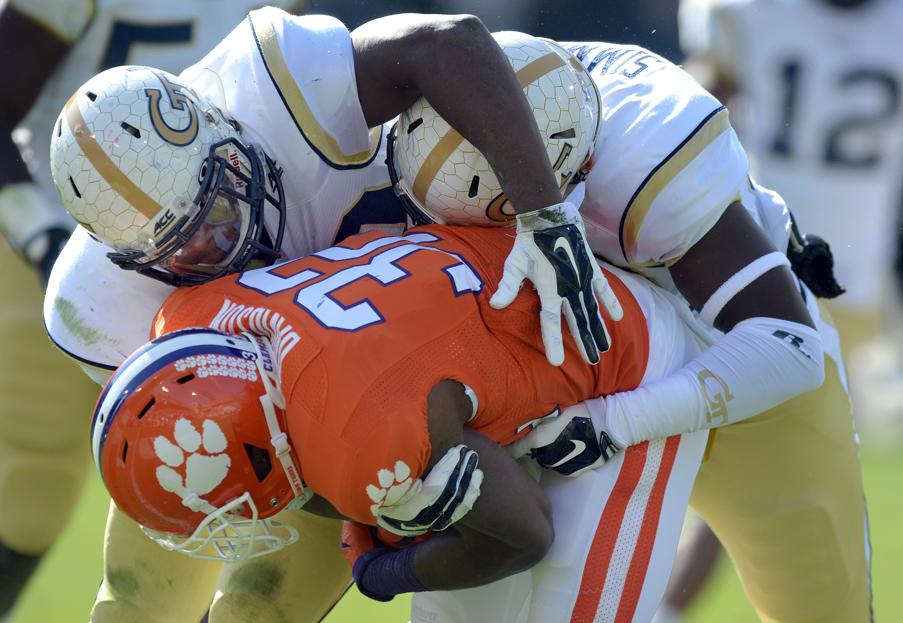 Georgia Tech routed Clemson, 28-6, at Bobby Dodd Stadium in 2014. Tech has won five of its last six home games against the Tigers.
Tickets are still available for the GT-Clemson showdown. A very limited number of lower-level tickets still remain and can only be purchased as part of an ACC Flex Pack. Starting at just $130, ACC Flex Packs include tickets to next Saturday's game versus Clemson, the Nov. 10 battle against Miami (Fla.) and either the homecoming game versus Duke (Oct. 13) or the home finale against Virginia (Nov. 17). Single-game tickets for the Clemson contest start at $75.
Click HERE for more information and to purchase tickets online.
For the latest information on the Georgia Tech Yellow Jackets, follow us on Twitter (@GTAthletics), Facebook, Instagram or visit us at www.ramblinwreck.com.