THE FLATS – Three assistant coaches and the program's first-ever director of applied sports science were added to Georgia Tech football's staff on Thursday, head coach Geoff Collins announced. The new staffers include defensive ends/outside linebackers coach Larry Knight, defensive line coach Jim Panagos, tight ends coach/offensive special teams coordinator Chris Wiesehan and director of applied sports science Ryan Horton.
Additionally, Knight, an Augusta, Ga. native, will serve as Georgia Tech's defensive recruiting coordinator while previously announced running backs coach Tashard Choice, a Jonesboro, Ga. native, will also be the Yellow Jackets' offensive recruiting coordinator.
Knight, Panagos, Wiesehan and Horton all come to The Flats from Temple, where they were members of Collins' staff for the past two seasons (2017-18).
Knight held many roles at Temple, initially joining Collins' staff as a quality-control assistant for defense and recruiting in 2017, then being elevated to director of player personnel in February 2018 before being promoted once again to outside linebackers coach/defensive recruiting coordinator a month later. No stranger to the Atlanta area, Knight also spent two seasons as outside linebackers coach at Georgia State (2015-16). His resume also includes stints at Tennessee (2013-14) and Cincinnati (2011-12).
"Larry did a great job for us the last two years at Temple," Collins said of Knight. "He's from Georgia, has a lot of connections in the Southeast and is a relentless recruiter. He has a positive attitude, he's great to have around the organization and is a positive role model for student-athletes."
Panagos is a 26-year coaching veteran whose experience spans the high-school, college and NFL levels. He joined Collins' staff at Temple as defensive line coach in 2017 and was promoted to assistant head coach in 2018. Like Knight, he was part of a defensive staff that helped the Owls rank among the top three nationally in defensive touchdowns (8 – 1st), forced turnovers (31 – 3rd) and fumble recoveries (13 – 3rd) in 2018.
"Jimmy and I have worked together for a lot of years over the past decade," Collins said about Panagos. "He does a great job motivating his defensive line, getting them to play with relentless effort. He's a great recruiter. He'll bring a lot of intensity and passion to The Flats."
Wiesehan's 25 years of coaching also includes experience at both the collegiate and professional levels. Wiesehan spent the past five seasons at Temple, including the last two under Collins. As the Owls' offensive line coach/run-game coordinator in 2018, all five of his regular starters – including two true-freshman tackles – earned all-Eastern College Athletic Conference (ECAC) recognition while paving the way for TU running back Ryquell Armstrong to rank second in the American Athletic Conference and 14th nationally in rushing (109.8 ypg).
"Chris is a tireless worker. The offensive line the last two years at Temple was really, really good," Collins said of Wiesehan. "He developed two true-freshman offensive tackles that ended up starting for us. Chris will do a masterful job at re-introducing the tight end position that hasn't existed here for 11 years. He's a relentless recruiter and a positive person to have around our players."
In his role, Horton will assist head football strength and conditioning coach Lewis Caralla in applying scientific and innovative methods to the Yellow Jackets' strength-and-conditioning program. He spent the past two seasons at Temple as assistant strength and conditioning coach.
"Player development and player safety are the top two principles of our program and Ryan did a masterful job of implementing and monitoring those initiatives at Temple," Collins said about Horton. "I'm excited for him to work with our student-athletes on The Flats."
Prior to his successful two-year stint at Temple, Knight served as the outside linebackers coach at Georgia State in 2015 and 2016. In 2015, he helped coach the most-improved defense in NCAA Division I FBS, as the Panthers allowed 15 points per game less than they did the season prior to his arrival and earned their first-ever bowl bid.
Knight's resume also includes two seasons as a defensive quality-control coach at Tennessee and two seasons as a graduate assistant at Cincinnati under his collegiate head coach, Butch Jones. At Tennessee, he worked directly with the Vols' defensive linemen and linebackers, including all-Southeastern Conference selections Derek Barnett and Curt Maggitt, who combined for 21 sacks in 2014 (the third-most by any duo in the nation), and helped put together a pair of top-five-ranked recruiting classes. At Cincinnati, he helped lead the Bearcats to back-to-back Big East championships and bowl victories.
Knight was an all-Mid-American Conference defensive end at Central Michigan from 2006-09, where he racked up 123 career tackles, 25 tackles for loss and 13.5 sacks and helped CMU to three MAC titles, four bowl berths and a No. 23 national ranking in 2009. He earned a bachelor's degree in entrepreneurship and marketing from CMU in 2010.
"I'm very excited to return to my home state and join Coach Collins' staff on this exciting journey," Knight said. "There's no one who attacks every aspect of college football with more passion, energy or innovative ideas than Coach Collins. I look forward to contributing to the defense, recruiting and rich tradition of Georgia Tech football and can't wait to get started on The Flats."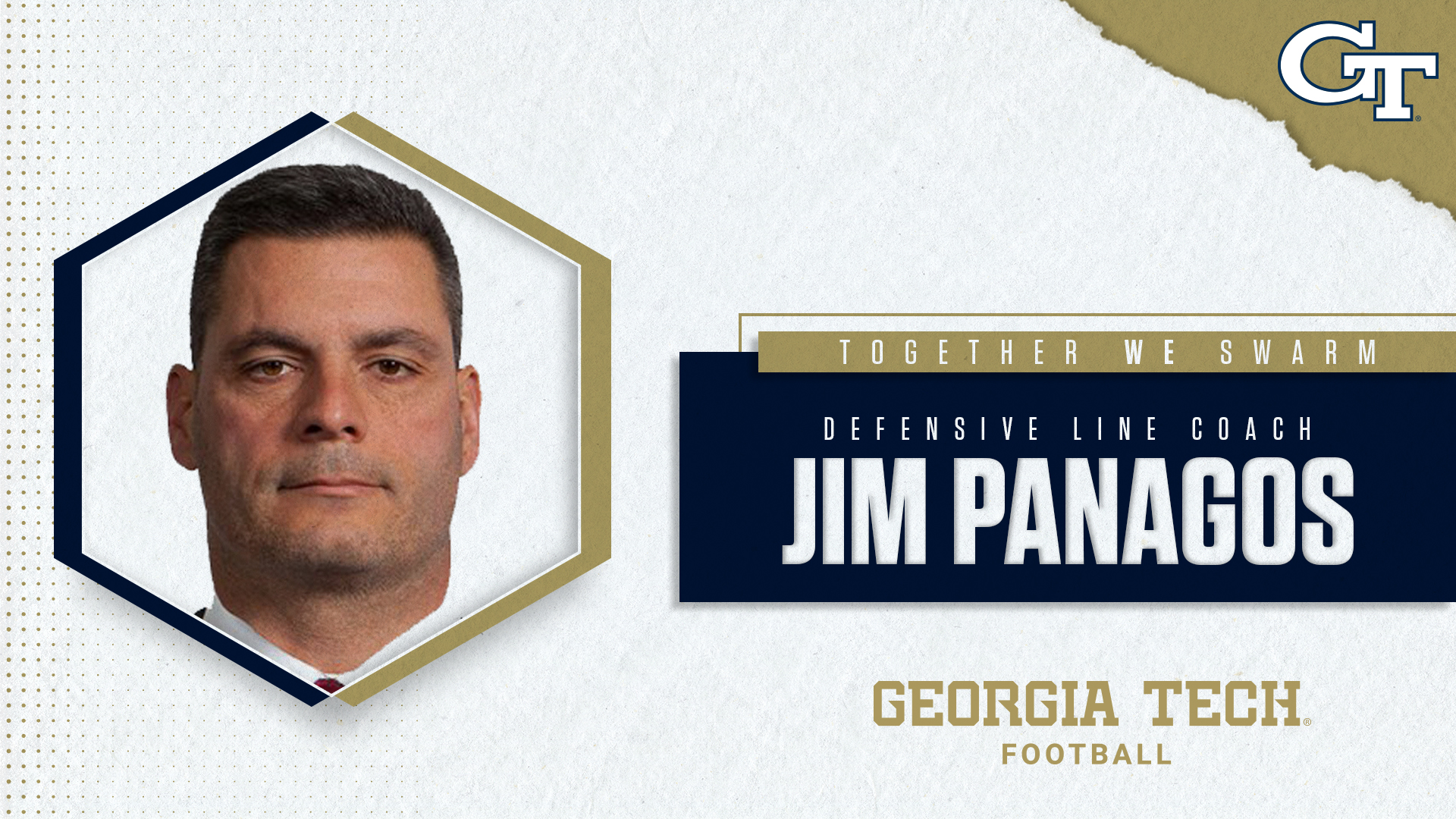 Panagos' 26 years of coaching experience includes four seasons on the same staff as Collins – first as defensive line coach at UCF when Collins coached the Knights' linebackers in 2008-09 and, most recently, as Collins' defensive line coach (2017-18) and assistant head coach (2018) at Temple.
Panagos has coached defensive linemen throughout his career, including at Temple (2017-18), Rutgers (2012-15), UCF (2007-11) and as a defensive-line assistant with the Minnesota Vikings (2005) and at his alma mater, Maryland (1993). His coaching career also includes four years as an assistant coach at C.R. James Alternative School in Tampa, Fla. (where he also taught mathematics), three seasons as a quality-control assistant for the Vikings (2002-04) and one season as a defensive consultant at Pitt (2016). His career highlights include being nominated for the Broyles Award (nation's top assistant coach) after Temple notched 39 sacks and 92 tackles for loss in 2017, helping coach the nation's No. 4-ranked defense at UCF in 2011 and being named FootballScoop's National Defensive Line Coach of the Year at UCF in 2009.
Panagos played defensive line at Maryland from 1989-92, earning two letters and leading the Terrapins with five sacks and 12 TFL as a senior in 1992. He graduated from Maryland in 1993 with a bachelor's degree in criminal justice. He and his wife, Maureen, have three children: Jack, Hayden and Olivia.
"I am excited to be at Georgia Tech," Panagos said. "The exceptional student-athletes, the great city of Atlanta and the ACC make this a unique opportunity. I can't wait to get started."
Wiesehan arrives at Georgia Tech fresh off of being nominated for the Broyles Award at Temple in 2018. A versatile offensive coach, his five years at Temple included four seasons as the Owls' offensive line coach (2014-15; 2017-18) and one as running backs coach (2016). In his lone season with TU's running backs, he coached the only pair of RBs in the nation to each rush for at least 900 yards and 13 touchdowns (Jahad Thomas and Armstrong).
Wiesehan's versatility as an offensive coach has been evident throughout his career, as he has coached every offensive position except for quarterback and had multiple players drafted at each position during the course of his 25 years in the profession. In addition to his five years at Temple, his resume includes stints with Hawai'i (running backs/offensive line – 2012-13), the Canadian Football League's Winnipeg Blue Bombers (wide receivers – 2010-11), UCLA (tight ends – 2009), Syracuse (offensive line – 2007-08), James Madison (offensive line – 2006), the NFL's Tampa Bay Buccaneers (offensive assistant – 2005), Northern Arizona (wide receivers/offensive line – 2001-04), Buffalo (wide receivers/offensive line – 1999-2000), Notre Dame (tight ends – 1997-98), Purdue (tight ends – 1996) and Fort Hays State (wide receivers – 1994-95).
Wiesehan was an all-America wide receiver at Wabash (Ind.) College from 1990-93 and still holds the NCAA Division III national record for all-purpose yards per play in a career (16.0 – 4,825 total yards in 301 plays). He graduated from Wabash in 1994 with a bachelor's degree in English and was inducted into the school's athletics hall of fame in 2014. A St. Louis, Mo. native, Wiesehan and his wife, Renee, have a son, Colton.
"We feel so honored as a family to join the Georgia Tech community," Wiesehan said. "I look forward to continuing to grow our tremendous relationships with high-school coaches and to win nationally with local talent. Our staff's passion and authenticity will be felt by our players, the GT family and the city of Atlanta."
In addition to his two seasons at Temple, Horton also worked with Collins when Collins was the defensive coordinator at Florida International in 2010. Horton was an assistant strength and conditioning coach at FIU for a total of five years (2008-12) and helped the teams he worked directly with (football, women's basketball, volleyball and men's and women's track and field) win five conference championships in five years.
Prior to rejoining Collins at Temple, Horton was the director of strength and conditioning at Elon for three years (2014-16), where he oversaw the strength-and-conditioning program for the Phoenix's 17 sports. His coaching experience also includes four years as an assistant strength and conditioning coach at Tennessee (2004-08), where he worked with five first-round NFL draft picks and two men's tennis all-Americans. Away from collegiate sports, Horton has served as director of strength and conditioning at Elkin Sports Performance in Richmond, Va. (2012-14), as well as a trainer at D1 Sports Training in Knoxville, Tenn. and head strength and conditioning coach for the Christian Academy of Knoxville.
A four-year football letterwinner at Otterbein (Ohio) College, Horton earned a bachelor's degree in health and fitness promotions from Otterbein in 2007. He and his wife, Jennifer, have two dogs: Chompers and Mia.
"Jen and I are excited to be joining Coach Collins' staff at Georgia Tech," Horton said. "I've had the opportunity to work with Coach Collins throughout my career and it's a blessing to be able to work for someone that above everything else, truly cares for his players. I can't wait to get started and help our athletes become as successful as they can possibly be."
Collins has now added a total of nine assistant coaches to his on-field staff, with Knight, Panagos and Wiesehan joining offensive coordinator/quarterbacks coach Dave Patenaude, defensive coordinator/linebackers coach Andrew Thacker, co-defensive coordinator/safeties coach Nathan Burton, Choice, wide receivers coach Kerry Dixon and cornerbacks coach/defensive special teams coordinator Jeff Popovich, in addition to support staffers Caralla and Horton.
For the latest information on the Georgia Tech Yellow Jackets, follow us on Twitter (@GTAthletics), Facebook, Instagram or visit us at www.ramblinwreck.com.