THE FLATS – Four Georgia Tech student-athletes are among 52 recipients of the Atlantic Coast Conference's 2019 Weaver-James-Corrigan Postgraduate Scholarship Awards. Tech's honorees include football's Brad Stewart (Savannah, Ga./Benedictine Military School), women's cross country/track and field's Amy Ruiz (Milton, Ga./Milton), women's track and field's Jeanine Williams (Kingston, Jamaica/Immaculate) and golf's James Clark (Columbus, Ga./Brookstone).
ACC Postgraduate Scholarship Awards are presented to selected student-athletes who intend to pursue a graduate degree and have performed with distinction both in the classroom and their selected sports while demonstrating exemplary conduct in the community. Stewart, Ruiz and Williams will each receive $6,000 towards their graduate educations. Clark, who intends to pursue a professional golf career immediately following the completion of his college career, is an honorary recipient.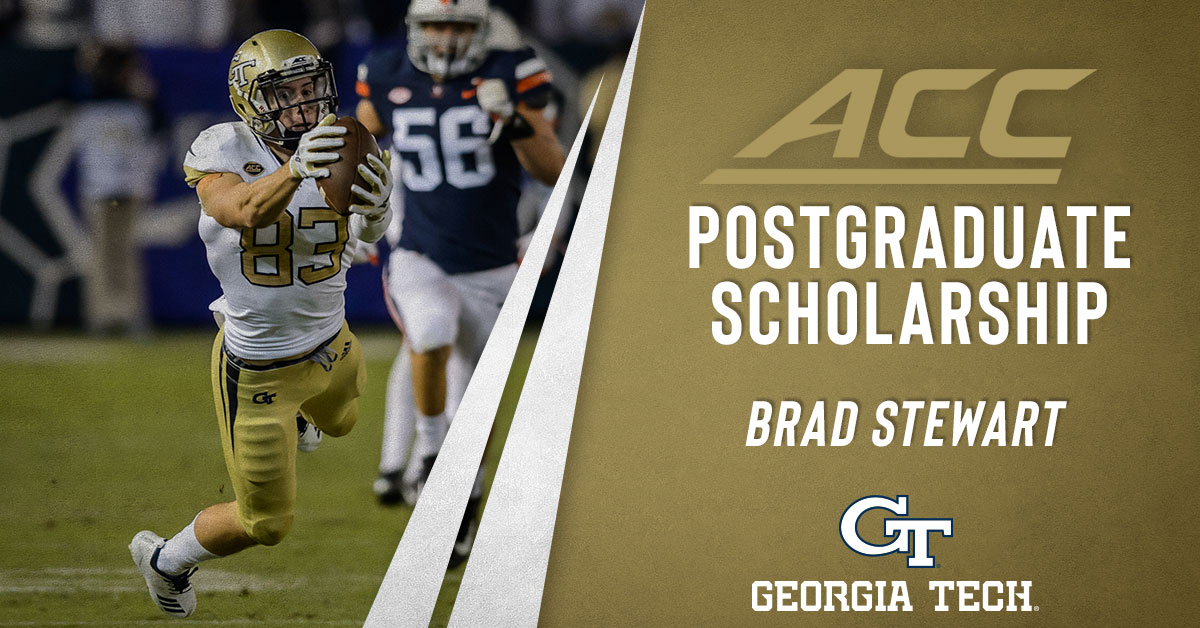 Stewart played in all 49 of Georgia Tech's games from 2015-18 and made 40-consecutive starts to close his career. He caught 53 passes for 930 yards (17.6-yard avg.) and five touchdowns as a Yellow Jacket, including 15 receptions for 268 yards and three touchdowns as a senior in 2018. Off the field, the mechanical engineering major is a two-time academic all-district honoree and was a semifinalist for the 2018 Campbell Trophy, presented annually to college football's top scholar-athlete.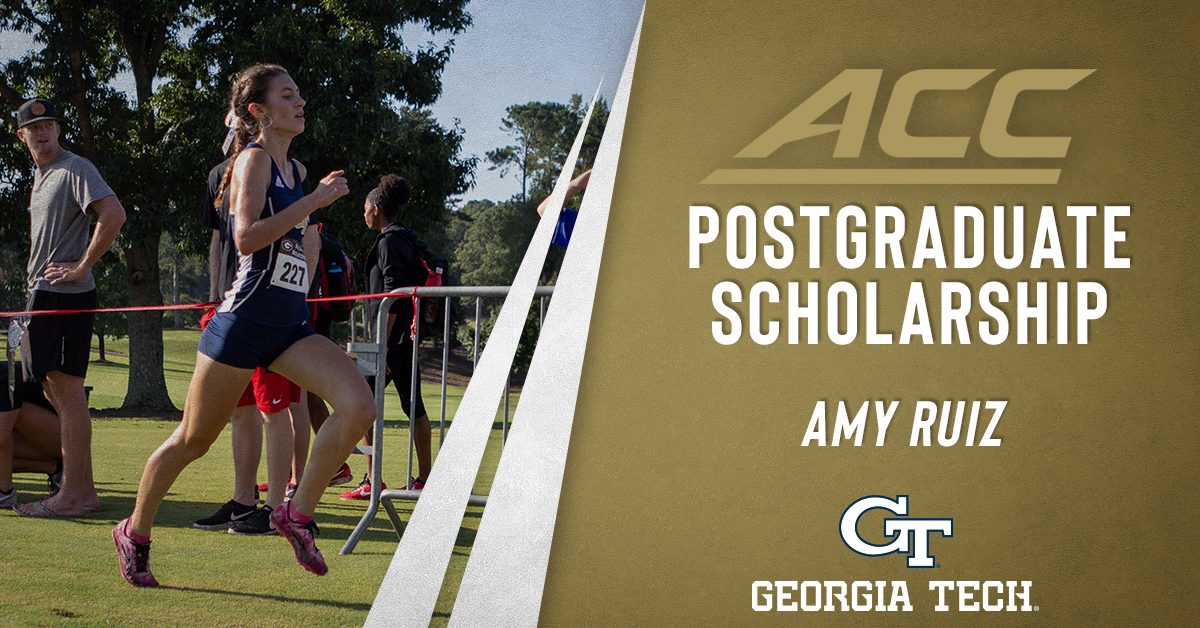 Ruiz earned NCAA all-South Region honors after placing 15th at the 2018 Women's Cross Country South Regional, which led Georgia Tech to its first berth in the NCAA Championship meet in 16 years. On the track, she was a 2018 NCAA outdoor regional qualifier in the 1500m, is a two-time ACC finalist (2017 – 1500m outdoor; 2018 – mile indoor) and a member of the Yellow Jackets' 4x1500m relay team that broke the 23-year-old school record in the event in 2018. She is a two-time ACC all-academic team honoree as an electrical engineering major.
Williams is a two-time ACC champion and NCAA all-American, having earned both honors in 2018 (60m hurdles indoor, 100m hurdles outdoor), becoming only the seventh student-athlete in ACC history to win both titles in the same year. She recently qualified for her fourth NCAA Championships berth by placing second in the 60m hurdles at the 2019 ACC Championships. In the classroom, the biochemistry major earned a Georgia Tech faculty honor in fall 2017 for achieving a perfect 4.0 GPA and is a two-time member of the ACC's all-academic team. She plans to attend medical school.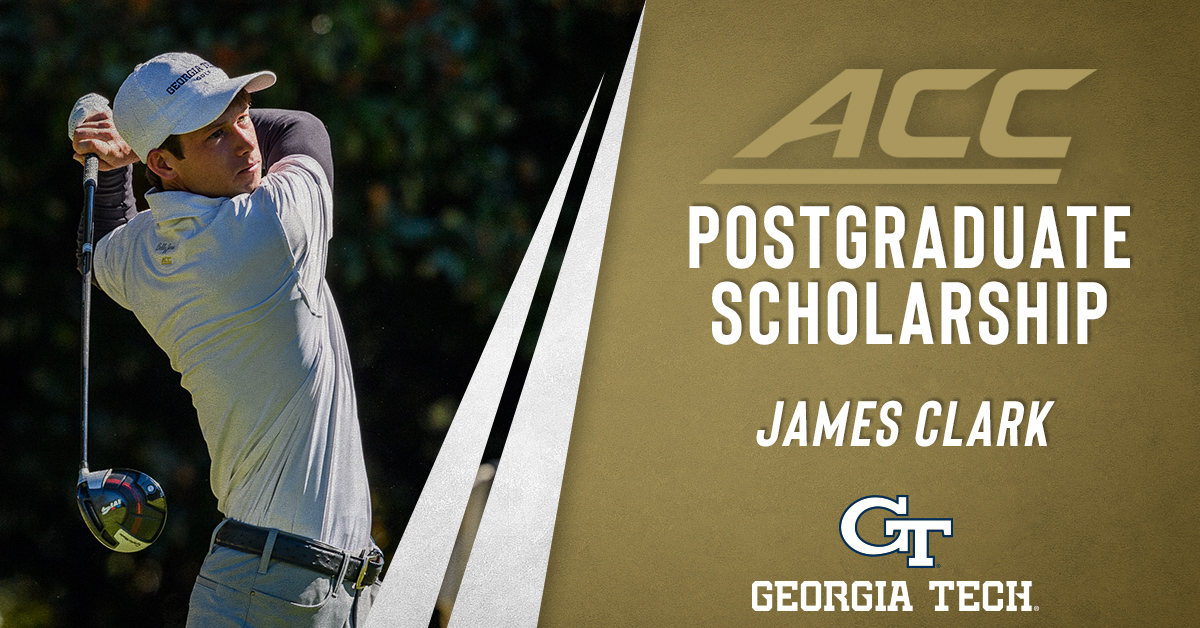 Clark, who is currently ranked among the nation's top 150 collegiate golfers, earned all-conference recognition in 2017 and has helped lead Georgia Tech to a pair of ACC championships (2015 and 2018), as well as a No. 2 ranking nationally going into the 2019 spring season. He has four top-10 finishes in 34 career tournaments at Georgia Tech and was named the Yellow Jackets' Player of the Year in 2017. A business administration major, he is a two-time ACC all-academic team honoree and was named academic all-America by the Golf Coaches of America in 2017.
The recipients will be honored at the annual Cone Health ACC Postgraduate Scholarship Luncheon presented by ESPN on April 10 in Greensboro, N.C.
For the latest information on the Georgia Tech Yellow Jackets, follow us on Twitter (@GTAthletics), Facebook, Instagram or visit us at www.ramblinwreck.com.