THE FLATS – Kerry Dixon and Lewis Caralla have joined Georgia Tech's football coaching staff as wide receivers coach and head football strength and conditioning coach, head coach Geoff Collins announced on Thursday.
A 12-year collegiate coaching veteran, Dixon comes to Georgia Tech from Toledo, where he was running backs coach in 2018. Prior to Toledo, he was the wide receivers coach at Florida from 2015-17, where he was named one of the nation's top 25 recruiters by Rivals. Dixon and Collins were on the Florida staff together in 2015 and 2016 (Collins served as the Gators' defensive coordinator).
"Kerry and I worked together at the University of Florida and I watched firsthand the type of wide-receiver play that he developed," Collins said of Dixon. "He's a relentless recruiter, a tireless worker and always has a positive attitude. He possesses a knowledge of the game from all of the positions on offense. I'm really excited about him joining the Georgia Tech football family."
Caralla also has 12 years of experience (including eight at the NCAA Division I FBS level) and has served as the head strength and conditioning coach for three different NCAA Division I FBS programs. He comes to The Flats after spending the 2018 season as the head strength and conditioning coach at Buffalo, where he was named one of four finalists for Football Scoop's Strength Coach of the Year award.
He was previously at Georgia Tech as an assistant strength and conditioning coach in 2010-11, working with the Jackets' football program and directing the strength program for Tech's nationally ranked golf team.
"Lew was one of four finalists for national strength coach of the year and did a masterful job of developing the student-athletes at the University at Buffalo. They had a great season and a large part of that was due to their gains in the weight room and offseason conditioning," Collins said about Caralla. "He was with me at Mississippi State and has been at Georgia Tech before, so he knows this place, he loves this place and I'm really excited to get him back on The Flats."
In his lone season as running backs coach at Toledo, Dixon helped the Rockets compile the Mid-American Conference's No. 2 rushing offense (223.6 ypg) and earn a berth in the Makers Wanted Bahamas Bowl, while mentoring three different RBs (all underclassmen) that rushed for at least 500 yards on the season.
Prior to his arrival at Toledo, he spent three seasons as wide receivers coach at Florida, where he mentored two of the three freshmen to ever record 100-yard receiving games for the Gators (Antonio Callaway in 2015 and Tyrie Cleveland in 2016). Under Dixon's tutelage, Callaway, now a member of the NFL's Cleveland Browns, went on to become the third-fastest UF player to reach 1,000 career receiving yards (17 games).
Dixon's coaching career also includes successful stints as an assistant at Florida International (2014 – running backs), Florida Atlantic (2012-13 – running backs), Montana State (2010-11 – running backs), Stillman (2009 – offensive coordinator), Texas Southern (2008 – quarterbacks), Morgan State (2007 – quarterbacks) and Booker T. Washington H.S. in Houston, Texas (2005-06 – assistant coach).
A Houston native, Dixon played quarterback and wide receiver at Baylor (2000-01) and Hampton (2002-03). He made two starts at QB as a freshman at Baylor and was a team captain as a senior signal-caller at Hampton. He received a bachelor's degree in political science from Hampton in 2004. Dixon and his wife, Robin, have three children: Charlee, Kerry and Rylee.
"I am extremely honored and blessed to have the opportunity to join the Georgia Tech football family," Dixon said. "My family and I are looking forward to reuniting with Coach Collins and forming great bonds with the players and staff, while becoming a part of a great community."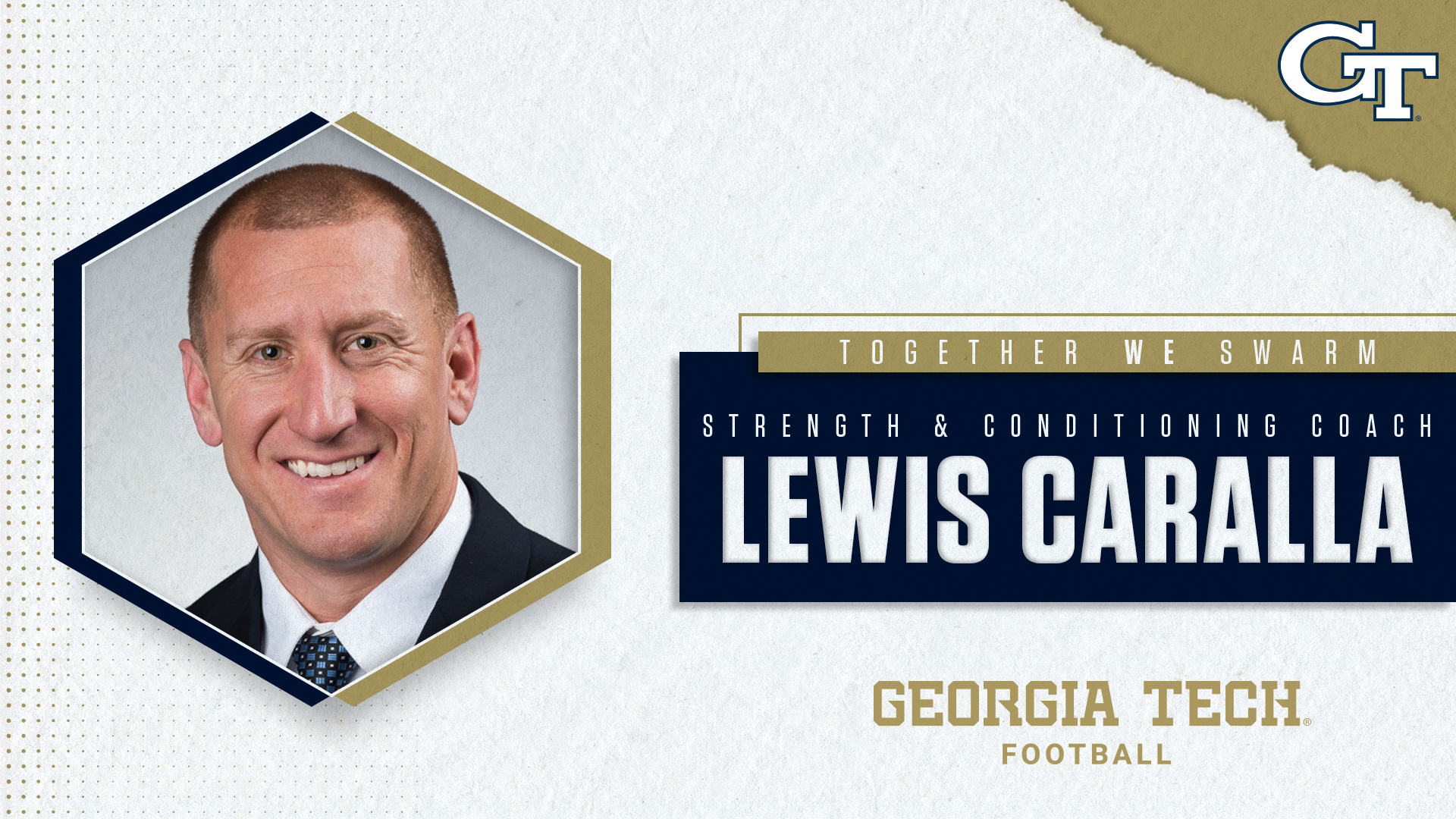 In his lone season as the head football strength and conditioning coach at Buffalo, Caralla helped turn around a team that went 8-16 over the previous two years into a squad that won the MAC East Division championship and earned the program's first bowl berth since 2013 (and third all-time).
Prior to spending 2018 at Buffalo, Caralla was director of strength and conditioning at Louisiana-Lafayette (2016-17) and North Texas (2015). His career also includes stints as an assistant strength and conditioning coach at Michigan (2012-14), Mississippi State (2011) and Georgia Tech (2010-11), a graduate assistant at Mississippi State (2009-10) and an intern at Virginia (2008) and South Florida (2007). During his one season as a full-time assistant at Mississippi State in 2011, he worked on the Bulldogs' football staff with Collins, who was MSU's co-defensive coordinator.
Originally from Tarpon Springs, Fla., Caralla was a two-time all-conference running back at Defiance (Ohio) College, where he also earned academic all-conference accolades twice and graduated with a bachelor's degree in wellness and corporate fitness in 2008. He earned a master's degree in kinesiology from Mississippi State in 2010. Caralla and his wife, Lori, have two children: Marshall and Ali.
"I couldn't be more excited to have the opportunity to lead Georgia Tech football's strength program," Caralla said. "This is an incredible full-circle for my family, being that my first full-time assistant job was at Georgia Tech in 2010. I'm thankful to have worked for Coach [Paul] Johnson in the past and thankful for Coach Collins to give me this chance now. I'm coming to Atlanta with complete determination to help this team in every way I can. My entire heart will be poured into this program."
Dixon and Caralla are Collins' second and third hires at Georgia Tech. Last Friday, the Yellow Jackets' new head coach announced that Georgia Tech alumnus Tashard Choice will serve as the Jackets' running backs coach.
For the latest information on the Georgia Tech Yellow Jackets, follow us on Twitter (@GTAthletics), Facebook, Instagram or visit us at www.ramblinwreck.com.