THE FLATS – Seven home games, including a season-ending three-game homestand versus Virginia Tech, NC State and archrival Georgia, highlight Georgia Tech football's 2019 schedule, which was announced by the Atlantic Coast Conference on Wednesday.
With the completion of the slate, Georgia Tech athletics has also announced prices for 2019 season tickets. Starting at just $219 for the Yellow Jackets' seven-game home schedule (and just $300 for sideline seats – which is the lowest pricing since 2014), 2019 season tickets go on sale on Monday, Jan. 28.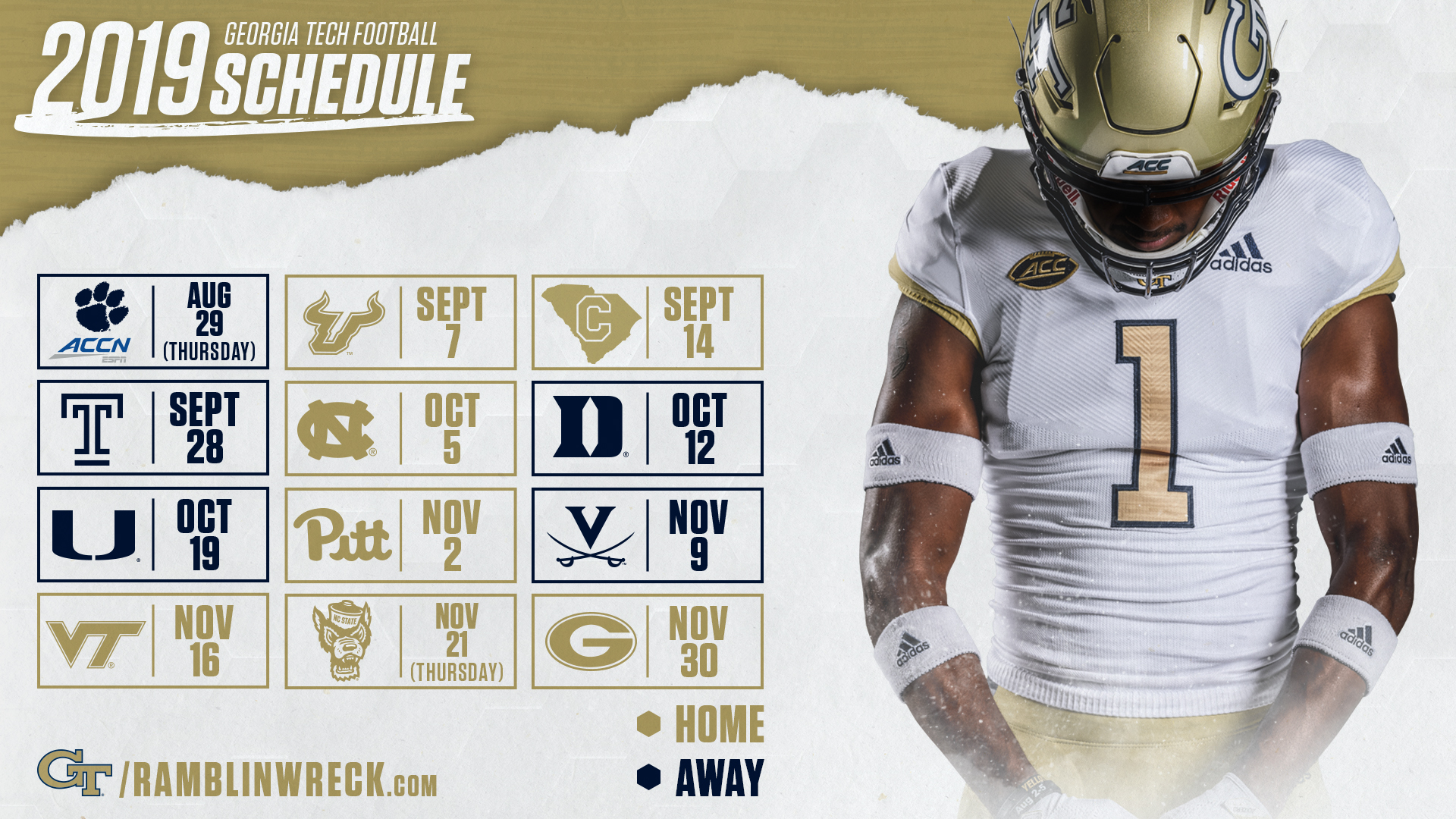 2019 SCHEDULE
For the first time since 2016 and only the eighth time in the last 30 seasons, Georgia Tech's 2019 schedule includes seven home games. In addition to previously announced non-conference games versus USF (Sept. 7), The Citadel (Sept. 14) and archrival Georgia (Nov. 30), the Yellow Jackets' home slate also includes ACC games against North Carolina (Oct. 5), Pitt (Nov. 2), Virginia Tech (Nov. 16) and NC State (Thursday, Nov. 21).
The back-loaded home schedule marks the first time since 1979 (and only the second time since World War II) that Tech plays four home games in the month of November and the first time since 2007 that Georgia Tech plays at home four times in its final five games of the regular season. Additionally, the Yellow Jackets are hosting USF for the first time ever, The Citadel for the first time since 2001 and ACC Atlantic Division crossover opponent NC State for the first time since 2010. The Jackets have won 11-straight games over rotating crossover opponents from the Atlantic Division.
Georgia Tech's five-game road slate includes previously announced trips to national champion Clemson (Thursday, Aug. 29) and Temple (Sept. 28), as well as ACC contests at Duke (Oct. 12), Miami (Oct. 19) and Virginia (Nov. 9).
The season opener at Clemson, which will be the first football game ever televised live on the ACC Network, will also mark only the third time in the last 23 years that the Yellow Jackets will open the season against a conference opponent. Georgia Tech's Sept. 28 trip to Philadelphia to play Temple is notable not only because it is the first-ever matchup between the Jackets and Owls but also because it will serve as a homecoming for Tech head coach Geoff Collins, who was at the helm at Temple for the past two seasons.
Due to there being 14 Saturdays between Labor Day weekend and Thanksgiving weekend in 2019, the Yellow Jackets will enjoy two off weeks this season – Sept. 21 and Oct. 26.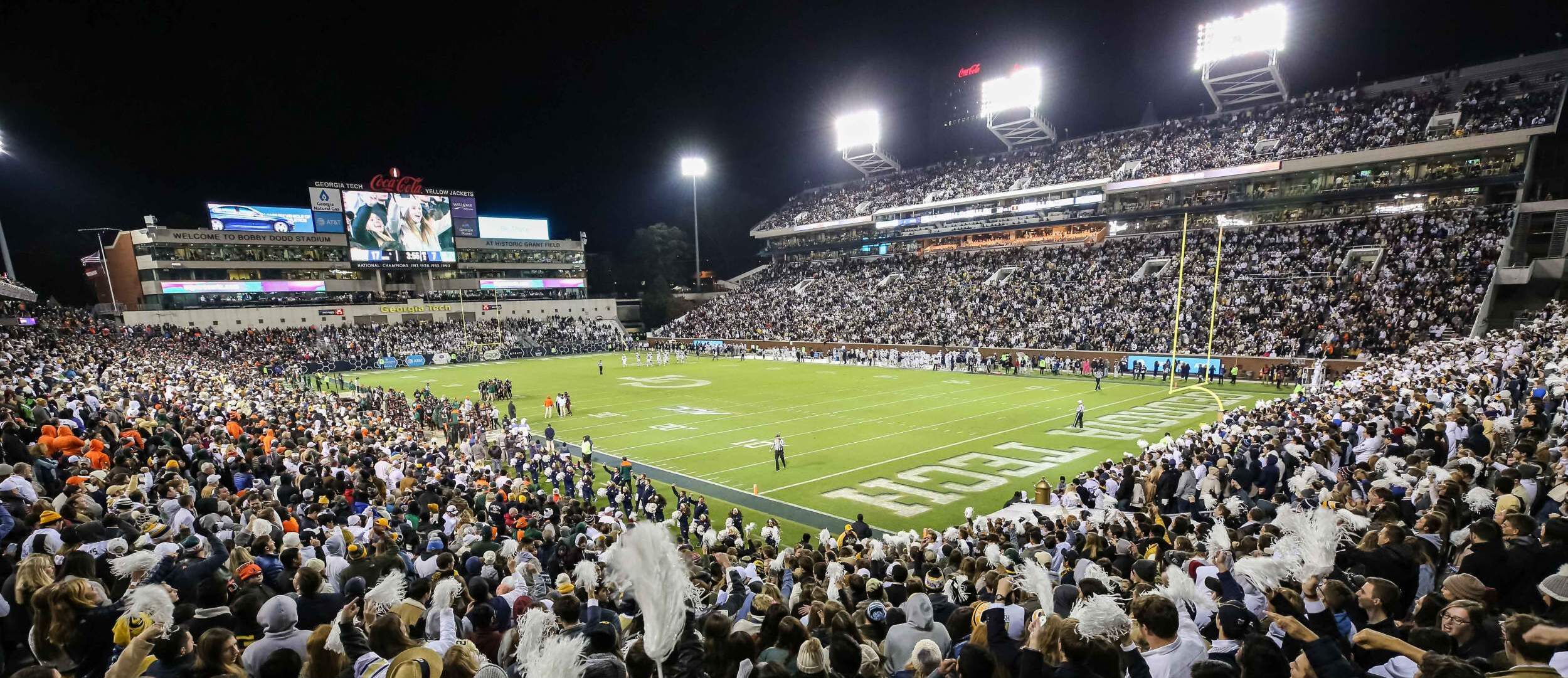 2019 SEASON TICKETS
Lower prices across the board await Georgia Tech season-ticket holders for head coach Geoff Collins' first campaign at the helm of the Yellow Jackets, as the cost of season-ticket memberships have decreased for all seat locations at Bobby Dodd Stadium in 2019, despite the fact that the Yellow Jackets are playing one more home contest than they did last season. Highlights include:
full season-ticket memberships – which include the same seat for all seven home games and exclusive season-ticket member benefits – start at just $219 per seat*;
sideline seating starts at just $300 per seat* – the lowest pricing since 2014;
Georgia Tech faculty/staff and GT Letterwinners can purchase sideline season tickets for just $280 per seat;
new alumni (those who graduated from Tech in December 2014 or after) can purchase sideline season tickets for just $240 per seat;
the highly popular Stinger Mobile Pass – a flexible ticket option that guarantees a seat for all seven home games with tickets delivered to the buyer's mobile device each gameday – returns in 2019 with two options, $149 for upper-level seats and $249 for the new Stinger Gold Mobile Pass, which guarantees lower-level seats. Both passes offer customizable features that allow purchasers to sit with friends, purchase guest tickets and more;
returning season-ticket members who renew their memberships by Friday, Feb. 8, receive a $25 loyalty discount off their full-season rate (not applicable with other discounts).
* A contribution to the TECH Fund is required to purchase tickets in selected seating areas. Click HERE for TECH Fund seating chart.
Season tickets go on sale on Monday, Jan. 28 at 9 a.m. New fans that wish to secure 2019 tickets in advance can do so by putting down a $100 deposit. To make a deposit on 2019 Georgia Tech football season-ticket memberships, click HERE or call the Georgia Tech athletics ticket office at 888-TECH-TIX. Season-ticket renewal information will be emailed to 2018 members on Jan. 28 as well. Returning members do not need to place a deposit in advance, as their seats are being held.
For the latest information on the Georgia Tech Yellow Jackets, follow us on Twitter (@GTAthletics), Facebook, Instagram or visit us at www.ramblinwreck.com.