By Matt Winkeljohn | The Good Word
Josh Pastner continued his practice of repeating himself the other day, but as long as Georgia Tech repeatedly plays defense the way the head coach wants, that's OK, because the Yellow Jackets will continue to give themselves a chance to win.
They rolled out their pattern Saturday for the third time in as many ACC games Saturday at Syracuse to beat the Orange going away, 73-59, with the help of some serious if somewhat misleading sharpshooting in the Carrier Dome.
Facing the famed zone defense long practiced by Syracuse head coach Jim Boeheim, Tech (10-6, 2-1 ACC) shot 59.5 percent (25-of-42).
On the other side, the Orange (11-5, 2-1) managed a meager 31.6 percent (18-of-58), including 21.2 percent from beyond the 3-point arc (7-of-33) in a game of zones.
The Jackets did a better job playing and attacking the zone than Syracuse, as they more often went through rather than over it, while the Orange defaulted to launching mostly errant bombs.
Boeheim was left lamenting his team's shot selection and season-high 19 turnovers after Tech took its sixth road victory in the past two-plus seasons, including the second straight this season following a 69-65 win at Arkansas Dec. 19.
All of this left Pastner saying things he often says. Here are samples of some of his comments in the roughly seven minutes he spent speaking with reporters:
"The only way of survivability of our team is through defense …
"Right now, we're a really good defensive team. That's our only way of survivability because we have a lot of limitations. The thing that we can control is our defense …
"The only way for us to survive is through defense …"
After that, and while Pastner was still talking, a Syracuse journalist said, "I've heard that."
More importantly, the call is resonating with the Jackets, who also responded nicely to the coach's offensive adjustments.
Pastner changed the lineup Saturday, making Abdoulaye Gueye a starter in the backcourt alongside James Banks III for the first time this season, and installing guard Curtis Haywood II as well. They replaced Moses Wright and Khalid Moore.
Banks and Gueye each scored 10 points on the way to a 27-26 halftime lead, and Tech went on to outscore Syracuse 36-16 in the paint, the same margin as last season when the Jackets beat the Orange 55-51 in McCamish Pavilion with a 30-10 edge in the interior.
Tech pulled away with a 24-7 run to start the second half with an almost uncanny offensive balance to offset 22 turnovers and 17-of-27 work from the free throw line.
Point guard Jose Alvarado led the way with 19 points on 5-of-6 shooting (he made all three of his 3-pointers), Banks finished with 16 on 6-of-10 shooting, including five dunks, and Haywood added 15 on 6-of-10 shooting, including 3-of-6 from beyond the arc. He added seven assists, too.
"The game plan was to try and get the ball in the middle, either with a guard or a big man and run deep corners," Alvarado said. "If we had an open shot, we made it."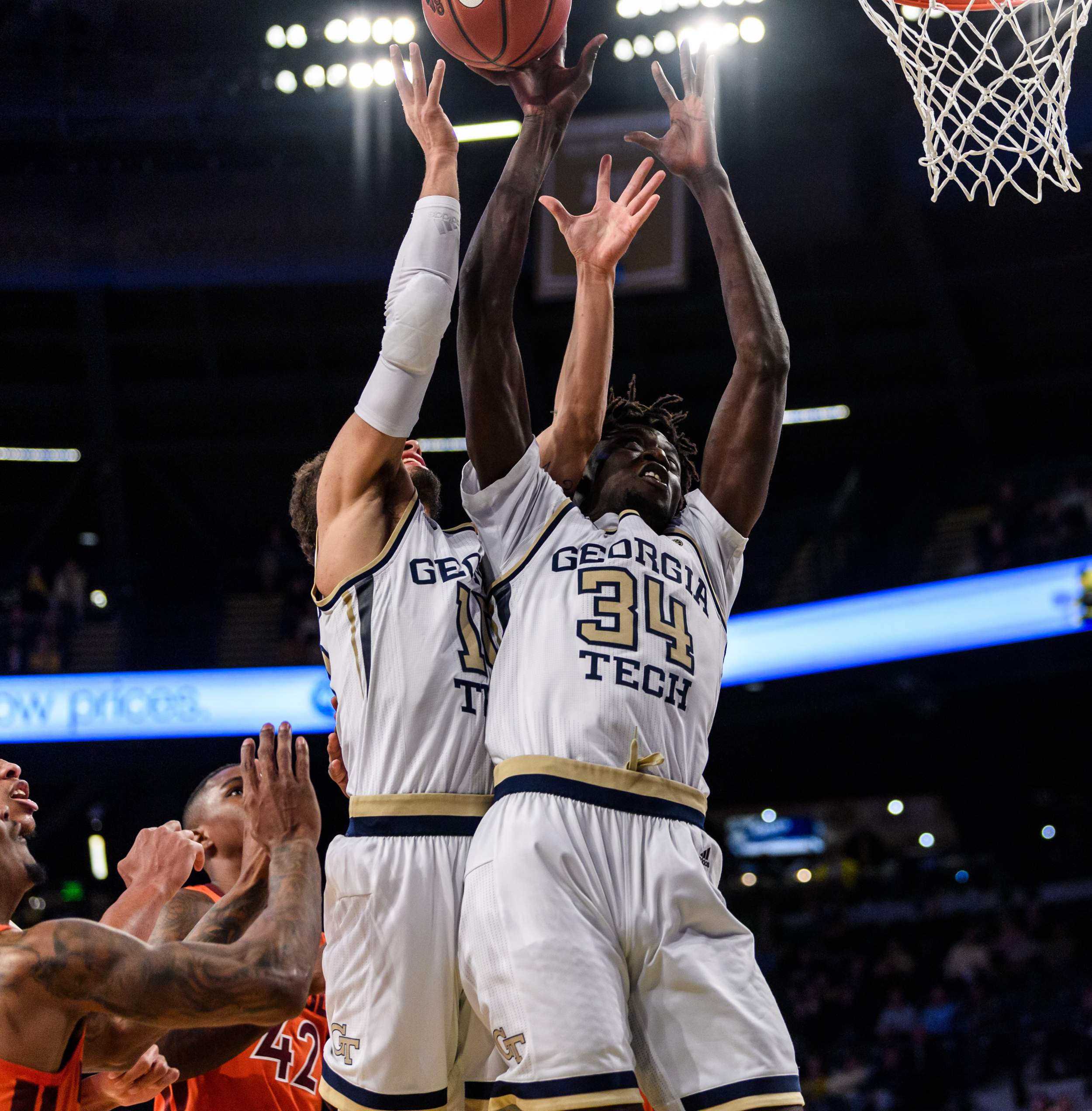 Building a wall around the lane has been a priority for the Yellow Jackets.
The overriding keys, though, were about stopping the ball.
Tech ranks No. 8 nationally in field goal defense (37.4 percent), No. 4 in 3-point defense (26.9 percent) and No. 17 in scoring defense (62.1 points per game). The Jackets have held all three ACC opponents — Wake Forest, No. 9/7 Virginia Tech and Syracuse — well below their season averages, and rank highly in multiple defensive efficiency analytics.
Banks blocked three shots, and guard Michael Devoe registered four of Tech's 15 steals.
"We all know if we play good defense, we have a chance to win the game," Haywood said. "We just shared the ball. We played hard, and shared the ball, we got it inside, in the middle and that makes everything better … The game plan was to work it inside … we like to play inside-out."
The game began the way it would play out. Banks blocked the first shot of Syracuse junior guard Tyus Battle, a second-team All-ACC player last season and the Orange's leading scorer. He scored 11 points on 3-of-12 shooting, his field goals coming in the final few minutes of play.
Tech swarmed from start to finish, and the Orange may have looked past the Jackets.
"I love our team. Our team gives every ounce of energy and we've had two great true road wins this year, at Arkansas and at Syracuse …" Pastner said. "Our way to survive in basketball is we have to be energy givers.
"We have to have a toughness about us, and that's got to be multiple efforts and second and third efforts on the defensive end. We might have got a little lucky that [Syracuse] might have been thinking about Duke on Monday."
Luck's great, although tough to quantify.
Defense usually travels on the other hand, and Pastner is counting on the Jackets taking theirs to Clemson (10-6, 0-3) Wednesday night.
"I repeat myself a lot. My wife can't stand it …" he said Saturday night. "I'm a big believer in energy. I'm all about energy."