Full 2019-20 Georgia Tech schedule  |  Men's Basketball Ticket Information
THE FLATS – The Georgia Tech men's basketball men's basketball team will take on Alabama Sunday, Oct. 27 at noon Central time in a charity exhibition game that will be played inside Coleman Coliseum in Tuscaloosa. Proceeds will benefit the American Red Cross Hurricane Dorian Relief Fund.
This will mark the second time that Georgia Tech has participated in an exhibition game for charity. The NCAA approved that an institution may use one of its possible two exhibition games against a Division I institution for the purposes of raising funds for a catastrophic event. The two teams will play a regulation 40-minute game. There will be no television or radio broadcast for the Alabama-Georgia Tech contest.
Tech and Alabama were longtime rivals in the Southeastern Conference who have continued to play occasionally since the Yellow Jackets left the conference following the 1963-64 season. The teams last met in a regular-season game on Jan. 3, 2012 at State Farm Arena in Atlanta.
The Jackets host Georgia College in an exhibition game at 2 p.m. Sunday, Oct. 20, at McCamish Pavilion. Tech opens the 2019-20 season Nov. 5 at NC State (8:30 p.m., ACC Network), with the home opener against Elon set for 7:30 p.m. Nov. 11 (ACC Network Extra).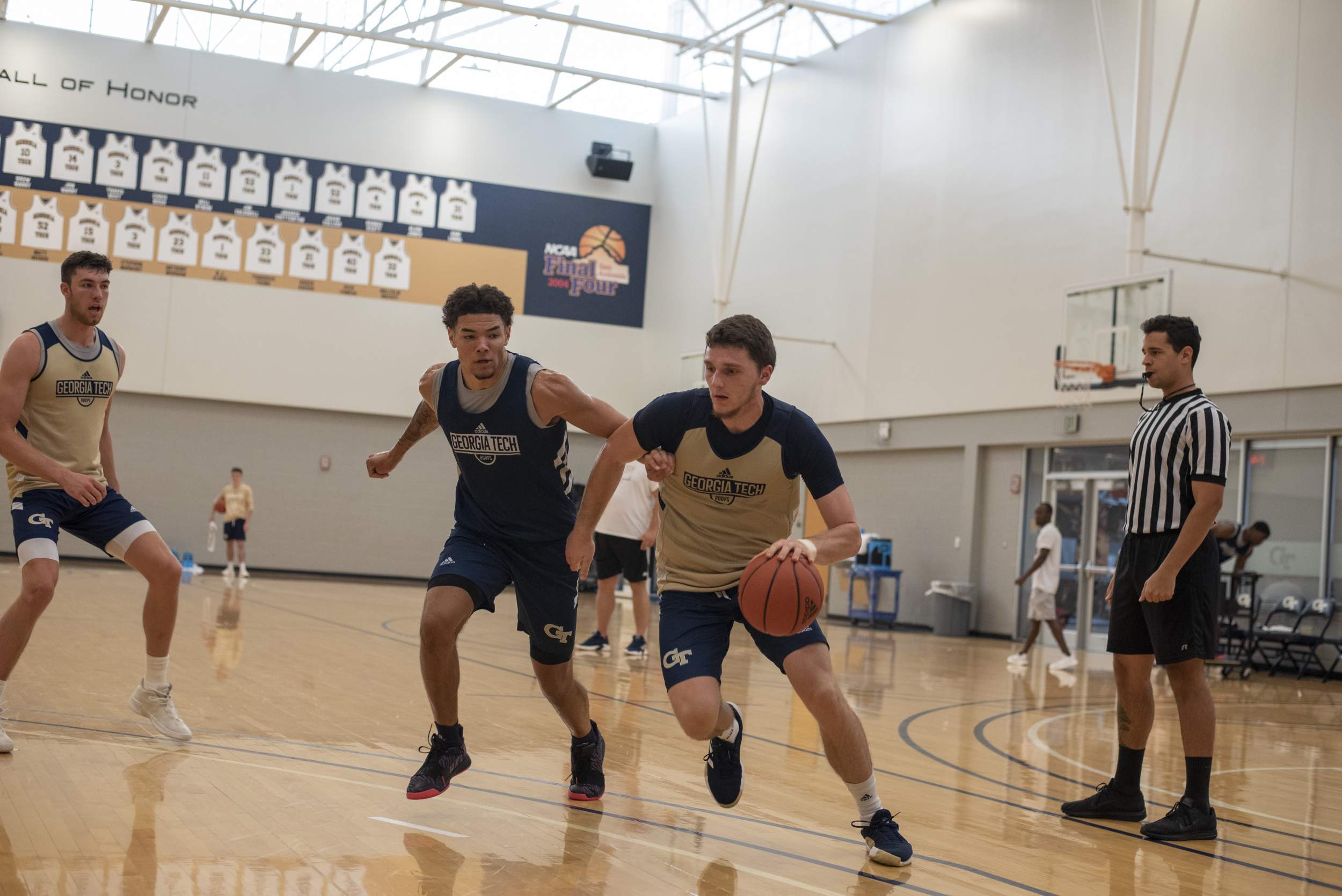 Sophomore David Didenko drives around junior Jordan Usher in a recent practice.
SEASON TICKETS, ACC PACKS REMAIN ON SALE
Ten-game ticket packages for Georgia Tech's Atlantic Coast Conference home men's basketball games are now on sale. ACC Packs, which start at $250 ($25 per game), guarantee Tech fans the same seat in prime locations for all 10 ACC home games. Fans purchase online at Ramblinwreck.com or call 888-TECHTIX.
Season tickets start as low as $290, and offer the best seating locations at McCamish Pavilion.
Click Here to Select Your Seats
ACC Network has launched!
The ACC Network is a linear and digital platform dedicated to 24/7 coverage of ACC sports that launched on Aug. 22, 2019. It will exclusively televise approximately 450 live events each year, including 40 football games (beginning with Georgia Tech's 2019 season opener at Clemson on Aug. 29), as well as 150 men's and women's basketball contests.
Don't get shut out! For more information and to learn if your cable/satellite/digital provider is carrying the ACC Network, visit GetACCN.com. Georgia Tech fans whose cable/satellite/digital providers aren't carrying the ACC Network are urged to contact their providers and ask for the ACC Network to be a part of their subscription.
ABOUT GEORGIA TECH MEN'S BASKETBALL
Georgia Tech's men's basketball team is in its fourth year under head coach Josh Pastner. Tech has been a member of the Atlantic Coast Conference since 1979, won three ACC Championships (1985, 1990, 1993), played in the NCAA Tournament 16 times and played in two Final Fours (1990, 2004). Connect with Georgia Tech Men's Basketball on social media by liking their Facebook Page, or following on Twitter (@GTMBB) and Instagram. For more information on Tech basketball, visit Ramblinwreck.com.
Season tickets for men's basketball can be purchased here.