Final Stats (.html) | Final Stats (.pdf) | Multimedia  | Postgame Notes | Postgame Quotes | Photo Gallery
Charlotte, N.C. – Moses Wright scored a career-high 25 points, and Georgia Tech rallied from a 20-point halftime deficit to within three, but the Yellow Jackets came up short in a 78-71 loss to Notre Dame Tuesday afternoon in the opening round of the Atlantic Coast Conference Tournament at the Spectrum Center.
The Fighting Irish (14-18) came out hot and burned the Yellow Jackets' zone defense to the tune of 58 percent from the floor and 7-of-11 from the three-point line in taking a 52-32 lead into the halftime locker room. It was a season high for points given up in a half for Tech.
The Jackets (14-18) switched to a man-to-man coming out of halftime, holding the Fighting Irish to 34.6 percent shooting and half their first-half point total, and went on the attack offensively to hit 60 percent of their own shots. Wright scored Tech's first eight points after intermission and collected 18 in the half, hitting 9-of-12 shots from the floor, while freshman Khalid Moore helped the cause with 10 of his 11 points in the frame.
Tech still trailed by 15 as the clock wound under eight minutes before the Jackets made their biggest push, trimming the margin to 72-69 on Moore's three-pointer from the right corner with just over a minute remaining. But John Mooney, who had 20 points and 10 rebounds in the game, answered with a jumper to restore the Notre Dame lead to five, and the Irish iced the game at the free throw line.
James Banks III finished the game with 12 points and 11 rebounds, his seventh double-double this season, and Michael Devoe added 10 for the Jackets.
Dane Goodwin scored 15 for Notre Dame, while Juwan Durham pitched in 11. Nate Laszewski scored 14, all in the first half before leaving the game with an injury after a hard fall.
The Irish advanced to a second-round game against Louisville on Wednesday.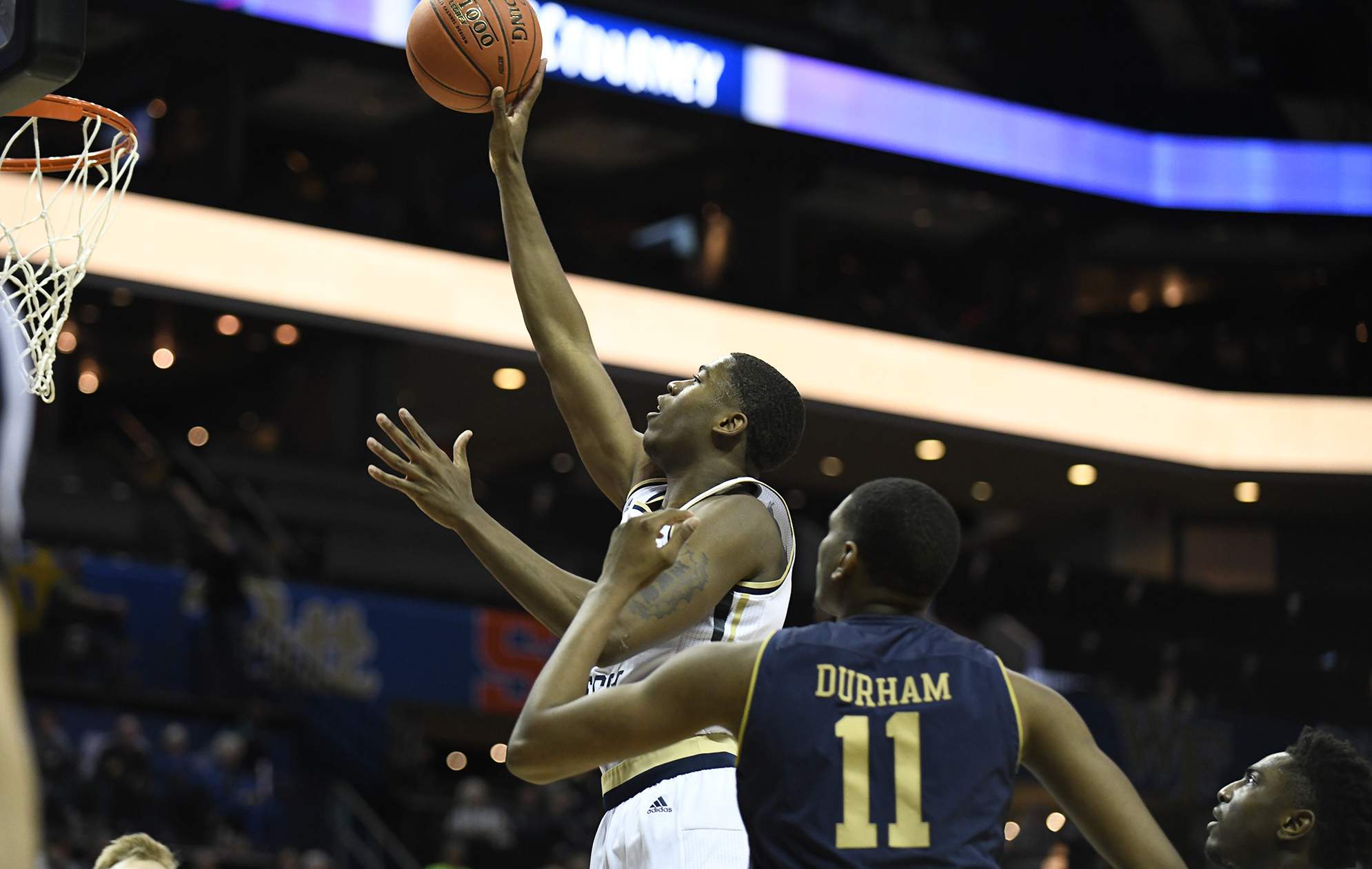 Moses Wright averaged  15.6 points and 6.2 rebounds over Tech's final five games of the season.
Post-Game Notes
MISCELLANEOUS NOTES
Georgia Tech starting lineup: Alvarado, Devoe, Moore, Wright, Banks III
First subs for Georgia Tech: Gueye for Banks III  – 15:31-1st half
On the floor for Georgia Tech at the end:  Alvarado, Devoe, Moore, Wright, Banks III
Opening tap won by Notre Dame: Georgia Tech has won the opening tap 18 times in 32 games this season
Series record vs. Notre Dame: Georgia Tech is 11-10 overall, 1-1 on neutral courts, 0-1 in the ACC Tournament, 3-4 under Josh Pastner, 6-8 vs. Mike Brey
Current series trend: Notre Dame has won the last two meetings
Georgia Tech is 11-7 at McCamish Pavilion this season, 83-44 in its sixth season in the building, 40-18 under Josh Pastner
Georgia Tech is 3-9 on the road this season, 3-11 away from McCamish Pavilion
Georgia Tech's next game: August, 2019 in Spain
 TEAM NOTES
For the last seven games of the season, Georgia Tech started out in a 4-out, 1-in alignment, starting guards Jose Alvarado and Michael Devoe with two wings and post man James Banks III. The two wing forwards have rotated, but Moses Wright has occupied one of those for the past six games, and freshman Khalid Moore started against NC State, his first start since Jan. 9 against Virginia Tech. That lineup has started seven games this season and posted a record of 5-2.
Moore made his ninth start this season, while Wright started for the 20th time. Devoe, a freshman, has started Tech's last 22 games, Banks has started the last 25 games in the post, and Alvarado has started 29 games.
Georgia Tech used 12 different starting lineups this season. No Yellow Jacket has started every game this season, and 10 different players have started three or more games.
Tech utilized its shortest playing rotation of the season – seven players – in its final two regular season games, expanding to eight in the ACC Tournament loss to Notre Dame. Tech's bench played only 10 minutes at NC State, and only one minute in the second half, but played 17 minutes against Notre Dame. At least eight Yellow Jackets, and often nine of 10, had played in every previous ACC game.
Georgia Tech has lost its opening game in the ACC Tournament three straight years, The Jackets last won an ACC Tournament game in 2016 in Washington, D.C.
The 52 points by Notre Dame were the most allowed by the Jackets in any half this season (51 in second half by Wake Forest on Jan. 5), and the 20-point deficit was the largest since Tech trailed Louisville, 43-16, at the half on Jan. 19.
Tech shot 50 percent or better in 10 games this season, one fewer than in the last two seasons combined. The Jackets hit 50 percent or better five times during conference play and the ACC Tournament, one more than in the last two seasons combined. The Jackets shot 50 percent in six games in 2017-18 (three ACC games), and five times (once in ACC play) in 2016-17.
Tech finished the season shooting better than 50 percent in three straight games (53 percent combined) – 50.8 vs. Boston College, 58.1 vs. NC State and 51.7 vs. Notre Dame.
Tech scored 40 or more points in the paint in each of its final three games – 44 each against Boston College and NC State, 40 against Notre Dame. The Jackets averaged 32.1 points in the paint per game for the year.
Tech's two best shooting games this season came in its two ACC road wins – 59.5 percent at Syracuse and 58.1 percent at NC State – and in those games attempted just 17 three-point shots and went 43-for-68 inside the arc.
Tech matched a low for turnovers under Josh Pastner (6) against Notre Dame in the ACC Tournament and committed fewer than 10 in three of its last four games. Conversely, the Jackets managed to win three road games this season despite high turnover counts – 20 at Arkansas, 22 at Syracuse and 16 at NC State.
Tech (7-for-20 vs. Notre Dame) averaged 6.8 threes and shot 33.9 percent from beyond the arc in its nine games (Devoe 46.7 pct., Sjolund 38.2 pct. in that stretch). In the five games before that, the Jackets shot 14-for-96 (14.6 pct.) from bonus range. For the season, Tech averaged 5.4 threes and connected on 30.7 percent.
Tech held 18 opponents this season, and nine ACC opponents, under 40 percent from the floor (NC State shot 31.9 percent). The Jackets limited 16 opponents, nine in the ACC, to 30 percent or less from three-point range.
Tech's largest deficit overcome to win this season: 10 points against Prairie View A&M. In ACC play, it was eight points to Boston College.
PASTNER'S KEY METRICS
Assists to made field goals: The Jackets are at 57.4 percent for the season (46th in the nation) and 56.4 percent in ACC games. Tech, whose nightly goal is 60 percent, averaged 17.3 assists in its final three games and assisted on 59.8 percent of its field goals.
Free throws made to opponents' attempts: Tech is 39-17 under Josh Pastner when attempting more free throws than the opponent. Tech made more free throws than its opponent (a nightly goal for the team) just six times during the season, and was outscored from the free throw line 13.4-11.4 per game in conference play, 13.8-12.7 per game overall.
Turnovers: Tech averaged 14.3 turnovers per game in ACC play, and only forced 11.3. Target each night is to commit 11 or fewer, which Tech met only three times all season (all in the last four games). More telling for Tech under Josh Pastner is that when Tech has committed fewer turnovers than its opponent, it is 22-15. When it has committed more, it is 23-30.
Guard rebounding: The group of Alvarado, Alston, Devoe, Haywood, Moore and Phillips combined to take 364 of Tech's 809 defensive rebounds (56 percent).
INDIVIDUAL NOTES
Jose Alvarado scored in double digits in six of Tech's last seven games, averaged 16.1 points over that stretch and leading the Jackets in scoring five times. He hit 38-of-83 shots from the floor (45.7 percent), 13-for-36 from three-point range (36.1 percent). The 6-foot sophomore scored 17 against Florida State, 29 vs. Pittsburgh, 20 at Miami, 12 at Virginia, 21 against Boston College and 11 at NC State. Alvarado had scored a total of 25 points, attempting just two free throws, in the six games prior.
Alvarado has scored (38) or assisted (29) on 67 of Tech's 154 field goals in the last seven games. In those six games, he also has 32 rebounds and 13 steals.
Alvarado committed just nine turnovers over his last nine games (349 total minutes).
Alvarado played all but seven minutes in Tech's last seven games, playing the full 40 minutes against Pittsburgh, Miami and NC State and 44 of 45 in Tech's overtime win over Boston College. The sophomore has 13 complete games in his career, five in 2018-19.
Moses Wright reached double figures in four of his last five games, tallying more than a third of his season total over that stretch (19 vs. Miami, 10 vs. Boston College, 18 at NC State, career-best 25 against Notre Dame in the ACC Tournament). He averaged 15.6 points and 6.2 rebounds and hit 36-of-58 shots from the floor (62.1 pct.) in those games. Prior to that, Wright had averaged
Going back further, Wright averaged 26 minutes over the final eight games of the season, averaging 11.8 points and 5.1 rebounds, while hitting 42-of-80 field goals (52.5 pct.). Prior to that, Wright had averaged 11.9 minutes, 3.1 points and 2.6 rebounds in the Jackets' first 11 conference games.
James Banks III rebounded from his first scoreless game as a Yellow Jacket (Feb. 23 at Miami) to finish the season with three straight double-figure games, 11 points and seven rebounds at Virginia followed by 18 and 9 against Boston College, 19 and 9 at NC State, and 12 and 11 against Notre Dame (that's 15.0 ppg and 9.0 rpg). He hit 26-of-35 shots from the floor (74.2 pct.) and 8-of-11 from the foul line in the four games.
Banks blocked 31 shots over the last 10 games of the season and finished with 78 in 31 games – 2.52 per game, which leads the ACC.
Freshman Khalid Moore started Tech's final two games and 10 altogether on the season. He played 68 total minutes (career high 36 at NC State) and scored 19 points, including his best in an ACC game, 11 points against Notre Dame in the ACC Tournament. Moore had three double-digit games on the season, and he did not commit a turnover in the season's final five games.
Michael Devoe finished the season with four double-figure games in the last five, averaging 11.6 points and 3.2 assists. The 6-4 freshman hit 42 percent of his shots from the floor (21-50) and 40.7 from behind the three-point stripe. Devoe hit a team-best 43.8 percent of his three-point tries in regular-season ACC play, leading the Jackets with 32 threes. Devoe was 25-of-54 from three-point land (46.3 pct.) in his last 10 games.
Devoe played all but one minute in Tech's last three games, playing every minute of Tech's overtime win against Boston College and all 40 against Notre Dame in the ACC Tournament. He finished the season with four complete games and ranks seventh among all freshmen in power conferences in minutes played.
Curtis Haywood II missed the final two games of the season with a left ankle injury suffered in the Boston College game.
Michael Devoe was one of four Yellow Jackets to score in double figures against Notre Dame.