VIDEO – Head Coach Geoff Collins Press Conference (Jan. 10, 2019)
THE FLATS – Brent Key, a Georgia Tech alumnus and football letterwinner, will return to The Flats as the Yellow Jackets' assistant head coach, run game coordinator and offensive line coach, Tech head coach Geoff Collins announced on Thursday.
Key returns to his alma mater after three seasons as offensive line coach at Alabama (2016-18), where he helped lead the Crimson Tide to two Southeastern Conference championships, three College Football Playoff championship games and the 2017 national title.
As a four-year starting right guard at Georgia Tech from 1997-2000, he was a key cog in an offensive front that helped the Yellow Jackets lead the Atlantic Coast Conference in rushing three times. During Key's junior campaign in 1999, the Jackets ranked No. 1 nationally in total offense (509.0 ypg).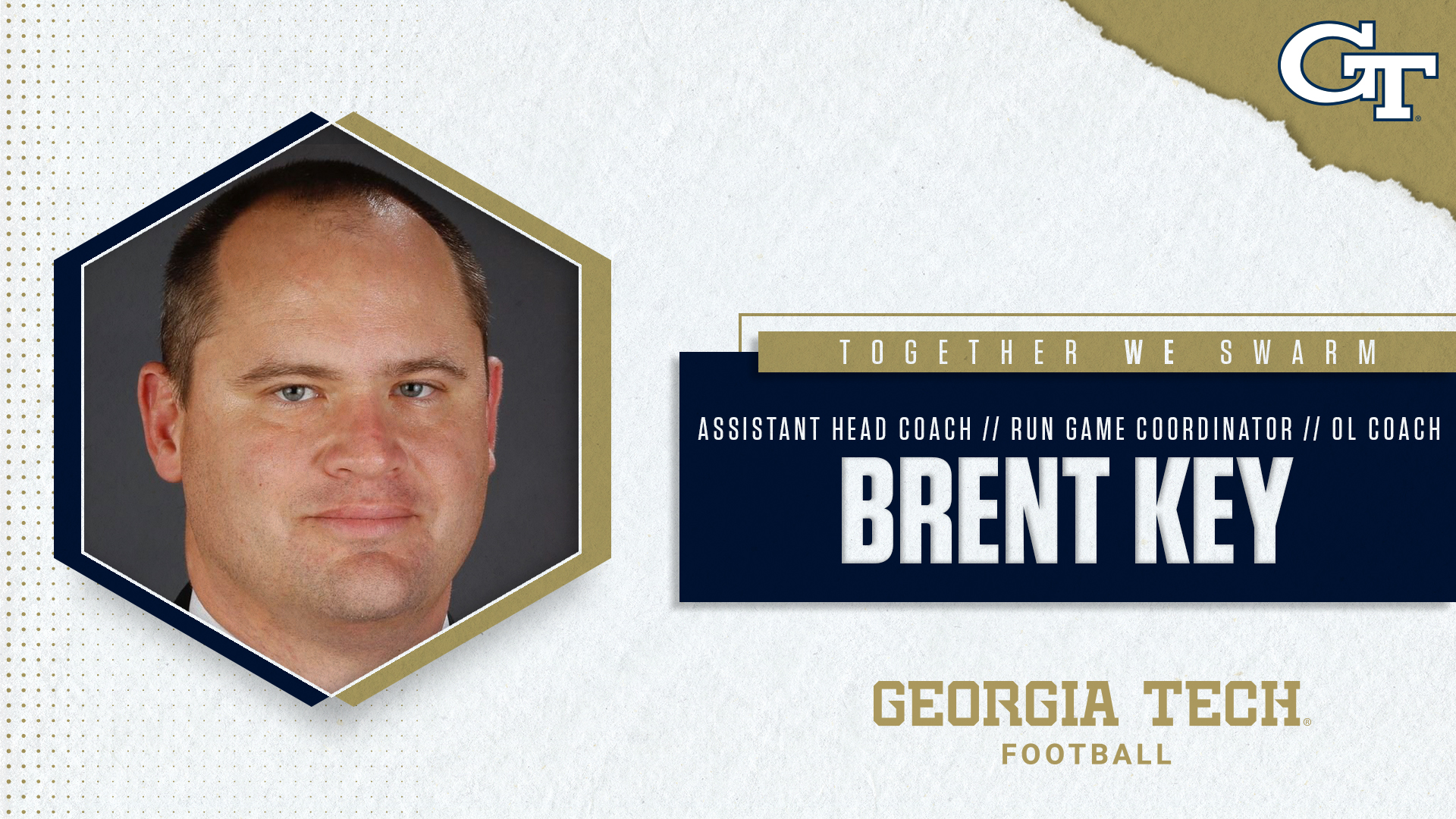 "Brent did a great job at the University of Alabama, producing some of the top offensive lines in college football," Collins said. "He's a great leader and a great friend. He was here at Georgia Tech as a player when I was a graduate assistant, then when I was promoted to tight ends coach, he took my place as a G.A. I'm really excited to have such a high-level coach want to be a part of what we're building here at Georgia Tech. I'm excited to see what he does as we transition to our offense of the future."
In each of his three seasons at Alabama, Key's offensive lines were finalists for the Joe Moore Award, which is presented annually to the nation's top offensive front, and was the only group in the nation to receive the honor all three seasons. He also coached four All-Americans (including two unanimous picks – tackle Cam Robinson in 2016 and tackle Jonah Williams in 2018) and nine all-SEC selections (including seven first-teamers) during his time with the Tide. In addition to being unanimous All-Americans, Robinson won the 2016 Outland Trophy as the nation's best interior lineman and Williams was a finalist for the award in '18. They also won the Jacobs Blocking Trophy (SEC's top offensive lineman) in '16 and '18, respectively.
Robinson went on to be selected No. 34 overall by the Jacksonville Jaguars in 2017 National Football League Draft and another one of Key's offensive linemen at Alabama, center Bradley Bozeman, was a sixth-round draft pick in 2018.
Key has also been lauded for his work on the recruiting trail at Alabama. He is tabbed as the nation's No. 2 recruiter by 247Sports for his work in landing the Crimson Tide's 2019 class and the No. 1 recruiter in the nation for his efforts with the 2020 class.
Prior to his three-year stint at Alabama, Key spent 11 seasons at UCF (2005-15). He started at UCF as a graduate assistant and worked his way up to assistant head coach (2012-15) and offensive coordinator (2014-15). He also coached tight ends for three seasons (2006-08), offensive line for six seasons (2009-14), running backs for one season (2015), was special teams coordinator for one season (2008) and recruiting coordinator for six seasons (2007, 2010-14) with the Knights. In 2012, 2013 and 2014, Key was nominated for the Broyles Award, given to the top assistant coach in college football.
During Key's 11 seasons at UCF, the Knights won four conference championships (2007, 2010, 2013 and 2014), highlighted by a 12-1 campaign in 2013, which culminated with a 52-42 win over No. 6 Baylor. The Knights beat two top-10 teams in '13 (Baylor and No. 8 Louisville) and Key's offensive front, which did not allow a sack against Penn State, Louisville, UConn or Baylor, helped pave the way for UCF to average 441.5 yards and 34.6 points per game, both among the highest marks in program history. His offensive line also provided protection for American Athletic Conference Offensive Player of the Year Blake Bortles.
In his six seasons as UCF's offensive line coach, eight different linemen earned all-conference recognition a total of 16 times and four went on to play in the NFL, including 2011 third-round draft pick Jah Reid. He also coached an NFL draft pick at tight end in Mike Merritt (2008).
During his time at UCF, Key coached under his head coach as a student-athlete at Georgia Tech, George O'Leary. He also worked on the same staff as Collins, who was the Knights' linebackers coach and recruiting coordinator in 2008-09, and worked under current Georgia Tech director of athletics Todd Stansbury, who was UCF's A.D. from 2012-15.
Key got his start in coaching as a graduate assistant at Georgia Tech in 2001-02 and served as tight ends and running backs coach at Western Carolina in 2004 (when Collins was WCU's defensive coordinator).
While making 44 starts at right guard for the Yellow Jackets from 1997-2000, Key was part of a senior class that led Georgia Tech to four-straight bowl appearances for the first time since 1953-56. As a sophomore in 1998, he helped lead Tech to a 10-2 record and a share of the ACC championship. He was voted a team captain and named all-ACC as a senior in 2000. Collins was a graduate assistant on Georgia Tech's staff during Key's junior and senior seasons and, when Collins was promoted to tight ends coach in 2001, Key filled the G.A. spot that Collins vacated.
Key earned a bachelor's degree in management from GT in 2001.
"Words can't express the emotions that I am feeling about being able to come home to Georgia Tech," Key said. "To be able to come back to The Flats and be a part of what Coach Collins is building is very special to me and my family.
"I also want to thank Coach [Nick] Saban and Ms. Terry [Saban] for giving me and Danielle an opportunity to be a part of the family at Alabama. I am not only a better coach, but a better husband and father after my three years working in Tuscaloosa and learning from Coach Saban."
A Clay, Ala. native, Key was an all-state performer at Hewitt-Trussville H.S. He and his wife, Danielle, are parents to a daughter, Harper.
For the latest information on the Georgia Tech Yellow Jackets, follow us on Twitter (@GTAthletics), Facebook, Instagram or visit us at www.ramblinwreck.com.