THE FLATS – In partnership with Team IMPACT, Georgia Tech women's basketball held a signing day celebration for 11-year old Keren Clay on Thursday afternoon in the Shah Media Room at McCamish Pavilion. Keren officially joined the women's basketball team signing a National Letter of Intent.
Keren was joined during the signing day celebration by her family, the Georgia Tech women's basketball team, Georgia Tech cheerleaders, Buzz and members of the Georgia Tech band. After the signing, Keren and her newest teammates spent time together getting to know one another. Keren was diagnosed in 2018 with Rhabdomyosarcoma and has been undergoing treatment since March.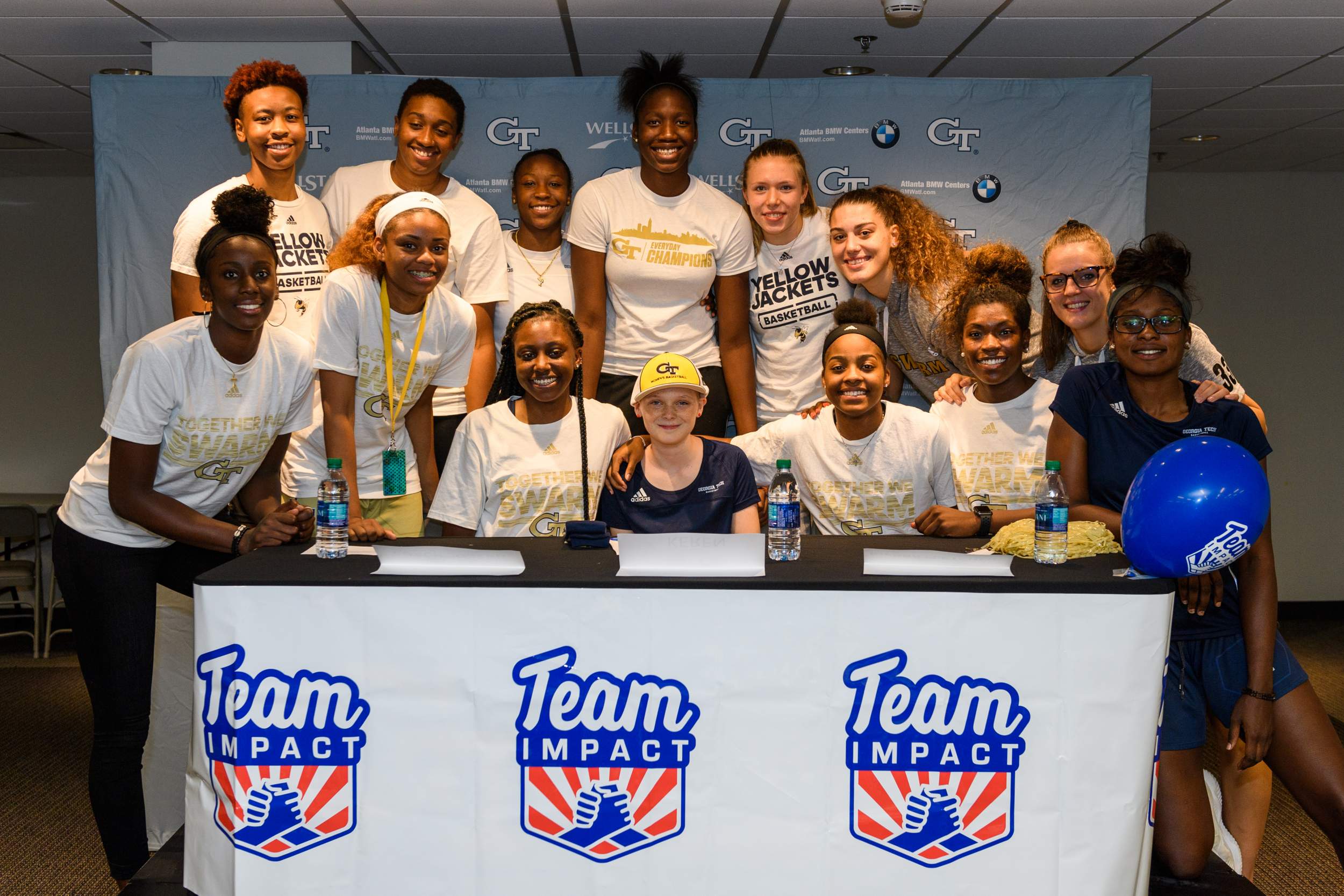 "We're really excited to welcome Keren and her family to our Georgia Tech women's basketball family," said Georgia Tech women's basketball head coach MaChelle Joseph during Thursday's signing day celebration. "Today is a very exciting day for us. We are really excited to welcome our top recruit, Keren, to Georgia Tech.
"We like to say around here that we're 'Tech Tough.' From the moment I met Keren I knew that I had met a warrior, I had met somebody that knew what it was like to be 'Tech Tough.' The minute she came out there and started shooting free throws with the team, just her resilience and her sense of humor and how she attacks everything that I've seen in the short time that I've known her, I've been extremely impressed with the person that she is."
As an official member of the Yellow Jackets, Keren will attend practices, games, team dinners and special events as her schedule permits. Earlier this summer, Keren was introduced to a few members of the team through an ice cream social in the team's locker room. Keren was also treated to a special visit by a few team members in the hospital to provide support and encouragement through a difficult period.
Team IMPACT is a national nonprofit headquartered in Boston, Mass., that connects children facing serious or chronic illnesses with college athletic teams, forming life-long bonds and life-changing outcomes. Since 2011, Team IMPACT has matched nearly 1,600 children with more than 500 colleges and universities in 48 states, reaching over 50,000 participating student-athletes. The child joins the athletic team and the student-athletes join the child's support team. Throughout the journey, the child gains strength, camaraderie and support while the student-athletes experience lessons of courage, resiliency and perspective they can't learn in a classroom.