Georgia Tech celebrated the legacy of its groundbreaking African-American football student-athletes
By Jon Cooper | The Good Word
Georgia Tech has always been the standard in creating and implementing progress in technology, business and all aspects of life, be it in the sports world or the "real" one.
As important, it has been at the forefront in developing the people who make those advances.
That has meant never being afraid to take the lead in doing what is right.
Last Thursday morning in the Edge/Rice Center, Georgia Tech recognized the Institute's first African-American football student-athletes — Eddie McAshan, Karl "Peewee" Barnes, Greg Horne, Joe Harris, Cleo Johnson, Rudy Allen, Tommy Crowley and David Sims.
The event kicked off a weekend of events commemorating and celebrating these men — all of whom graduated from the Institute and went on to be pillars in the community and important contributors in the business world. The weekend was capped with their introduction  during a break in Saturday's game between Georgia Tech and Bowling Green at Bobby Dodd Stadium. They received a standing ovation from the home crowd, not so much in appreciation for their superb athletic achievements — Sims (1985), McAshan (1995), and Harris (2000) are members of the Georgia Tech Sports Hall of Fame — but the groundwork that they laid for thousands of student-athletes that have followed in their footsteps.
But the in-game introduction was only a small part of recognizing these special men, which was important to director of athletics Todd Stansbury.
"We wanted to recognize the African-American football players that integrated Georgia Tech [but we wanted it] to be more than just a 'Roll them ou on the field and everybody recognize them,'" said Stansbury. "I wanted there to be an educational aspect so that we could learn from their experience.
"I felt it was important that our student-athletes, our staff, our students on campus had the opportunity to hear their stories," Stansbury added. "It's been 50 years since Eddie McAshan was recruited to come here and I felt devoting a whole weekend, with panels and opportunities for them to meet with classes and different other groups on campus would be a fitting way to recognize the legacy that they've left here and the path that they started."
There was a special feel to the Edge/Rice Center on Thursday morning. The same space used by current football student-athletes to describe their successes and challenges during postgame press conferences was the stage to learn about this octet's very different set of successes and challenges in the late 1960's and early '70s.
"You've made Georgia Tech a possibility. But more than that, you've made Georgia Tech a reality for African-American students, student-athletes coming behind you," said GT athletics student-athlete advisor and mentor Derrick Moore, who emceed the event. "You set such an incredible example but you kept the standards high. All of us are so deeply appreciative that you gave so many of us opportunities to experience the greatest institution in the world. We are so dadgum proud of you."
They were as proud to be back and spreading the good word.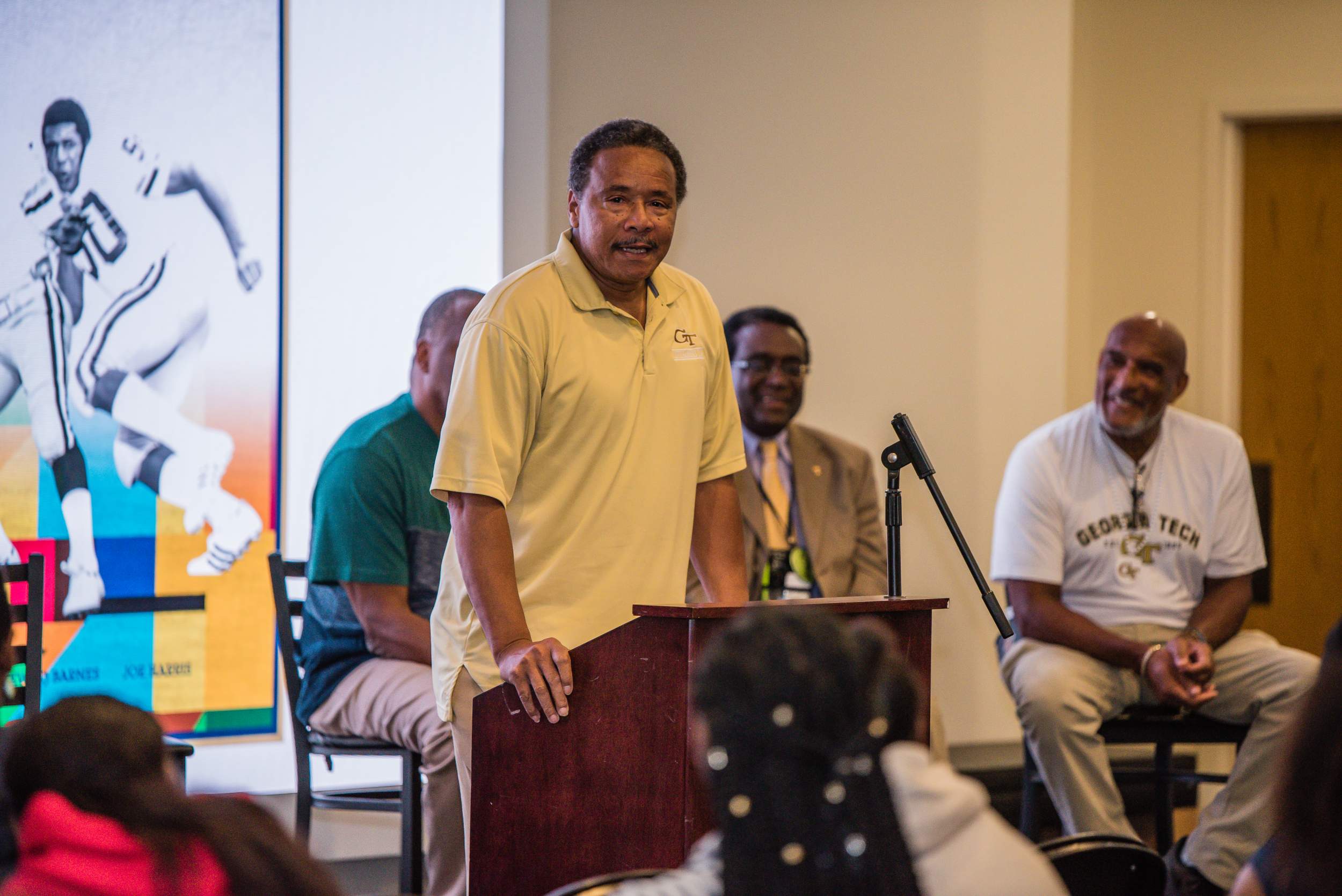 McAshan (above) was the first African-American to receive a football scholarship at Georgia Tech, the first to start at quarterback — he was second in the entire Southeast — and the first to be selected in the NFL Draft, by New England in 1973. He also still ranks in the top 10 in school history in passing yards (4,080, eighth), touchdown passes (32, eighth), and completions (360, sixth), and set 17 school records in his 36 starts, going 22-13-1.
But the impact he made on the field from 1970-72, and the history books didn't matter as much as the impact he made simply by attending Georgia Tech, where he'd earn a degree in industrial management.
"I didn't understand it then, but my grandmother told me there would be a moment like this. It won't mean a lot as far as financial gain but it would be something that would be everlasting," he said. "She explained to me that it would be something that you could not avoid. It was a timely deal. I came along just during that time when segregation was going out.
"Coming here and deciding on Georgia Tech, and Georgia Tech, of course, being in Atlanta, there was no way that bad things could happen," he added. "Georgia Tech has done a lot for me. It's opened a lot of doors. My grandmother was right. There's not a whole lot of financial gain but there's a whole lot of love to be enjoyed through this type of longevity.'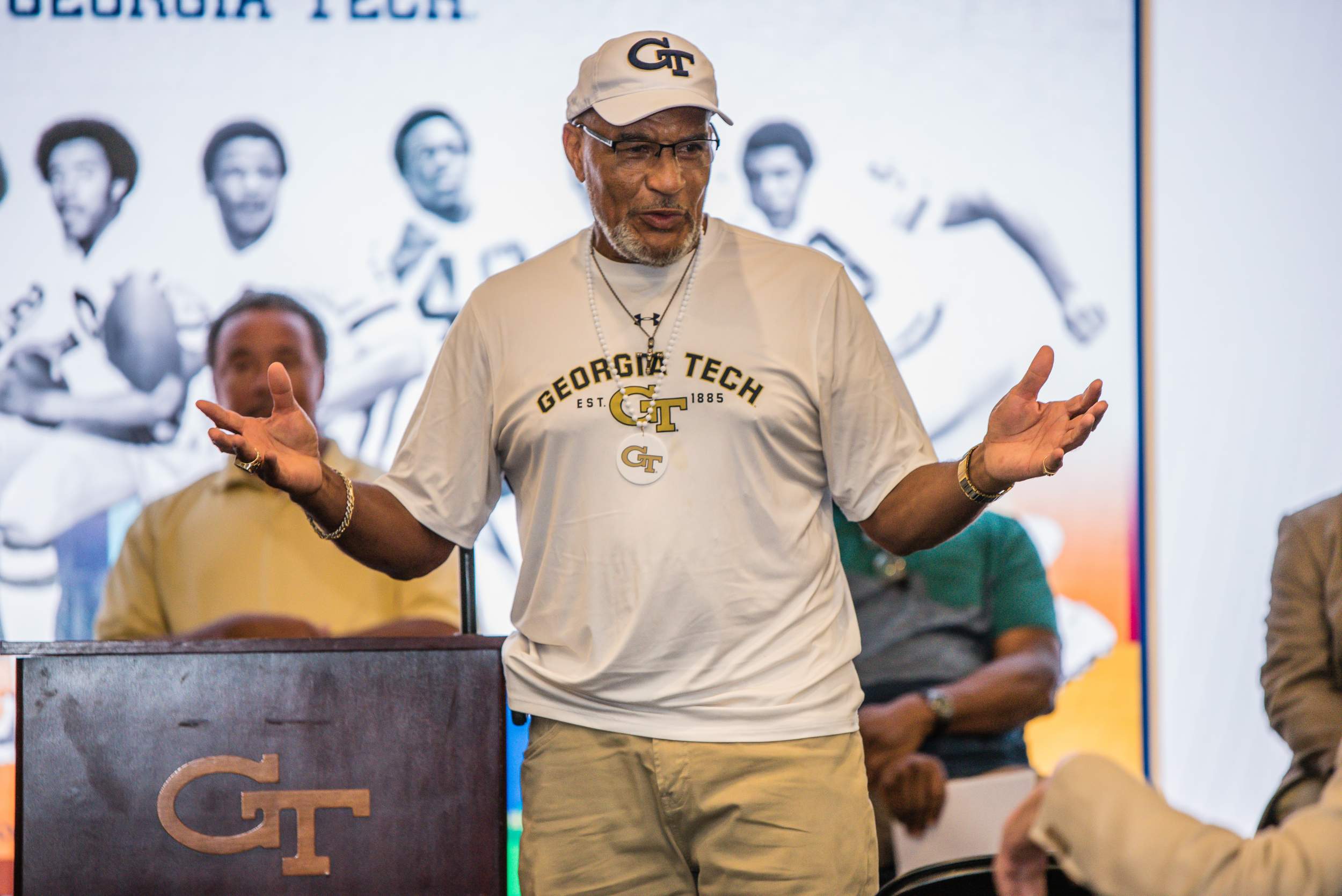 Harris (above), the third African-American to receive a football scholarship, who made 415 career tackles (eighth in school history) and would go on to play six seasons in the NFL, similarly used his degree to make a big impact in the business world and credited what he learned at Georgia Tech for his approach to life
"Georgia Tech teaches you how to create your own world," he said. "They'll teach you how to figure it out. Make it happen. That's what it did for me. I didn't know I could do all these businesses but I started figuring it out. My goal was to help somebody else. It wasn't about me. It was about helping somebody else to be even better than me.
"You've got to be the motor in your life. You are the motor and you've got to make it happen," he added. "I always tell kids, 'Get your back-up plan. Football is just a game. It's not going to last forever but you can enjoy it while you've got it. But once it's gone, you go on to something else.' It's going to be good. There's a good life for everybody."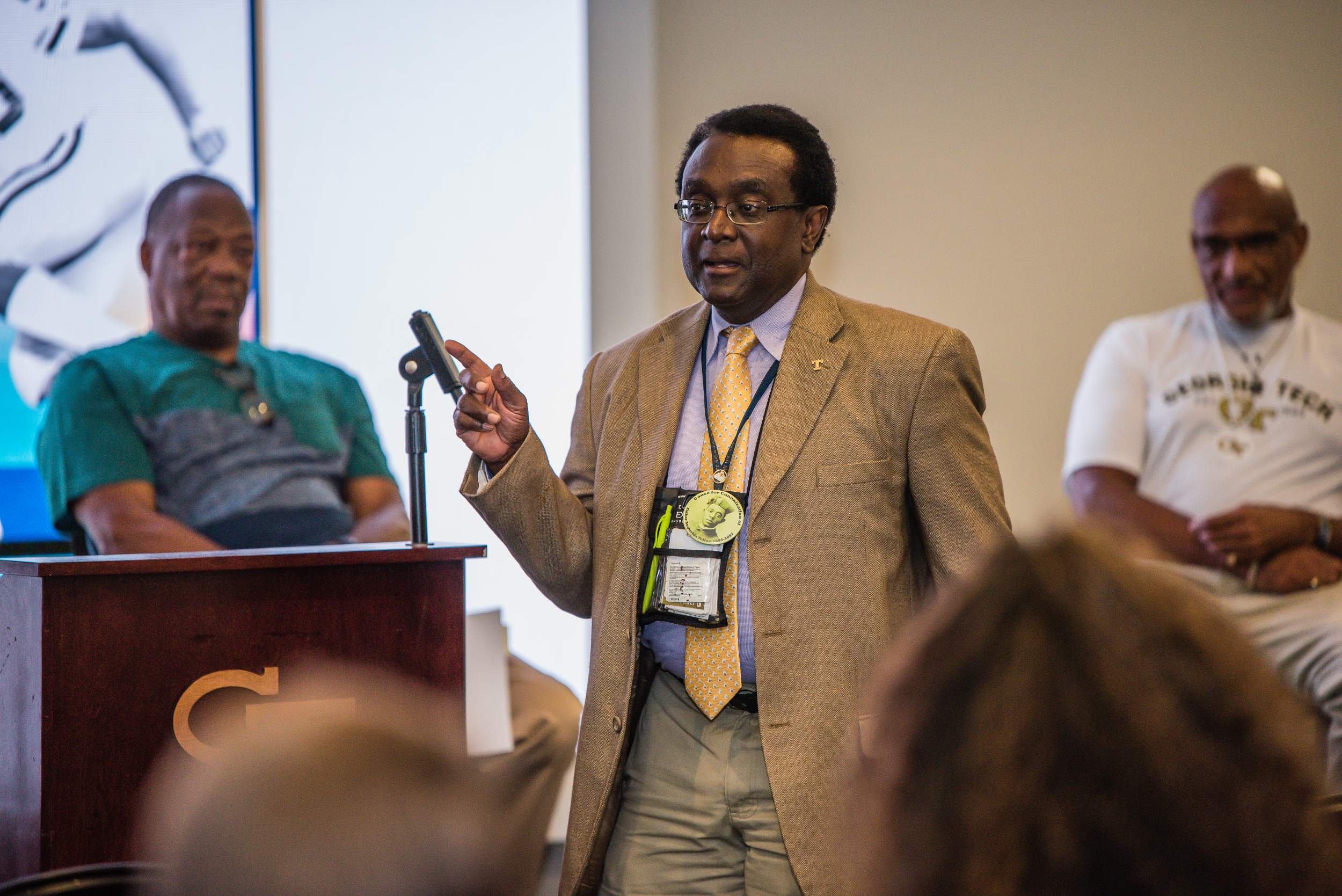 Barnes (above), the first African-American to enroll at Georgia Tech and to play varsity football after walking on, told the student-athletes that timing really is everything (ironically, he showed great comedic timing, as in a humorous moment, several student-athletes had to leave for class just as he began to speak, appearing to exit on him). He told the remaining student-athletes that the time is right now — that's backed up by Georgia Tech's current 88-percent NCAA graduation success rate (GSR).
"When we were freshmen, they used to tell us 'Look to your left, look to your right. Two of you ain't gonna graduate,'" recalled Barnes, who graduated with a degree in industrial management, attended the prestigious University of Pennsylvania's Wharton School of Business and served on the Georgia Tech Foundation, Alumni Association, Athletic Association and Alexander-Tharpe Fund boards. "Now they tell us that we have a shot to graduate. Tech got me into the Wharton School. When I got to Philadelphia they told me my 2.4 [GPA at Tech], if I had been [at Penn], would have been a 3.4.
"Obviously Georgia Tech is evolving. Atlanta has evolved. You guys are here at a perfect time because you now have an evolution where you can look at the history, look at the present and move toward the future," he added. "Tech has opened a plethora of doors. I've been all over the world. When I say Georgia Tech, people don't say, 'Where is that?' because they know. The reputation of Georgia Tech will always precede you."
The message of the seven pioneers in attendance (Johnson was unable to attend the weekend's event) hit the mark on the student-athletes that were in attendance, representing every sport.
"It's definitely awesome being able to hear how many doors have opened up for those guys that have come through here and knowing that the opportunities may be more abundant now," said quarterback TaQuon Marshall, who, less than 72 hours later, would sit and answer questions on the same stage in almost the same spot as his predecessor McAshan. "Just to know that coming here, when you leave, you'll have a lot of opportunities to do something great.
"I'm trying to leave a legacy like those guys did," he added. "They paved the way and we're trying to follow in their footsteps. It was awesome to be able to have time in my schedule to come down and hear some of the stories those guys told."
Women's basketball's Martine Fortune found it enlightening to be able to put faces to the names and stories of Georgia Tech African-American student-athletes.
"It brought history to life to hear from these men," she said. "We, as students, are often told facts like 'Eddie McAshan was the first black Georgia Tech football player,' but we got to hear the whole story. We learned what he had to overcome to get here and what he did to excel while he was here."
The experience has inspired her and her teammates to dig deeper into the school's history and become further aware of social causes.
"I know from conversations I've already had, that this event has sparked interest in Georgia Tech's history," she said. "We would like to know more about the progress made for equality on this campus and how so many of us minority and foreign students got the opportunity to study and play here. We've had some of the first women's basketball players in history come to practices and games before but now I am interested in sitting down with these women and former Georgia Tech players to hear all that they have to say about the changes they've witnessed in women's basketball. The core of what it means to be a Tech student-athlete hasn't changed. I want to uphold those of excellence on and off the court, and I want to make sure student-athletes are also getting the best college experience they can."
The impact made by these pioneers and their stories made for a proud weekend all over campus.
"What they did by coming here, and really paved the road, what they've done …" Stansbury said. "I really like what Eddie said, what his grandmother said: It wouldn't be about the money. I think that's what this weekend is all about, the lasting legacy of what those guys have done.
"Put yourself in their shoes and the difficulties that they had to go through to be the first. I think it humbles everybody," he added. "Everybody talks about the rigor of Tech, the curriculum and how hard it is to be a Division I athlete, all those kinds of things. But then you think about all the added pressures that were put on these guys because they were the first. That takes it to a whole new level. It also shows where Georgia Tech was as far as a pioneering institution. So I think that also speaks to the type of Institution that this is, the leadership that it provided. Of course, it was great that Jack Thompson, who recruited all these guys, and is still part of our program, was here. I think it just shows our current student-athletes kind of where they come from and the type of Institution they're at."