GAMEDAY CENTRAL – Georgia Tech at Pitt (Saturday at 12:30 p.m.)
By Matt Winkeljohn | The Good Word
If Georgia Tech is going to break a vexing streak on Saturday at Pitt's Heinz Field, where the Yellow Jackets will lug in six-consecutive losses away from Bobby Dodd Stadium, it's a good bet that they're going to have to hold on, buckle down, bow up or do whatever you want to call it when a defense builds a wall.
The last time the Jackets (1-1) played at Pitt (1-1), in 2016, they scored 34 points. But Tech lost because the Panthers scored 37 with the benefit of a late, long touchdown pass that was tipped and fluttered into the hands of tight end Scott Orndorff on a 74-yard play.
There have been more flukish plays against Tech during its current six-game road skid, like when Miami's Darrell Langham caught a fourth-down pass off his facemask to keep alive the Hurricanes' late, game-winning drive last season.
But the greatest common denominator has been opponents scoring big points.
During the six-game stretch, Tech opponents have averaged 37 points per game, including totals of 42, 40, 43 and 49 points allowed, most recently when the Jackets fell, 49-38, last Saturday at USF. The Bulls sped up down the stretch, scoring the game's final 21 points.
Not so long ago, Tech streaked the other way.
Prior to this road/neutral skid, the Jackets won their final three games away from home in 2016 with victories of 30-20 at No. 18/22 Virginia Tech, 28-27 at Georgia and 33-18 over Kentucky in the TaxSlayer Bowl in Jacksonville.
In those games, Tech's opponents averaged just 21.7 points per contest.
The streak is not new, yet the defense is. The Jackets have worked two games under new coordinator Nate Woody, and there remain nuances of the 3-4 to master. It didn't help at USF that Tech lost two starters – safety Tariq Carpenter and inside linebacker David Curry — to targeting calls.
"Lack of communication," senior nose tackle Kyle Cerge-Henderson cited. "They decided to go hurry-up, and we had practiced it, but the young guys were unfamiliar with the hurry-up. That was a good learning point."
After Curry was exiled in the second half, he was replaced by true freshman Quez Henderson because sophomore Bruce Jordan-Swilling was unavailable due to a lower-body injury.
Jordan-Swilling is expected to start at Pitt, where Curry must sit out the first half. But his absence at USF was significant.
"A lot of what happened on defense was self-inflicted," said head coach Paul Johnson. "We've got to figure out who the players are . . . I think the kids will get better at it . . .
"We've got enough players over there to play better than we played. There's plenty of guys. I think what happened is we had a ton of mistakes, and when things started to go south, you have to have somebody put their foot in the ground and stop it."
In winning the final three games of 2016 away from home, Tech scored 30.3 points, just ahead of the Jackets' 28.2 average during the current six-game losing streak away from Bobby Dodd Stadium, which includes last year's 42-41 double-overtime loss to Tennessee at Mercedes-Benz Stadium and a 40-36 loss at Virginia.
There has not been a big difference in offensive output in one streak vs. the other. The Jackets put 602 yards of total offense on USF, although they also turned the ball over three times – twice in the fourth quarter.
On the other side of the ball, there's been a big difference, and senior inside linebacker Brant Mitchell summarized it in saying, "We've just got to learn how to finish."
Johnson shares the opinion that Tech's priority corrections may be somewhat simple.
"If you've got the quarterback, take the quarterback. If you've got the running back, take the running back. If you're supposed to drop [into coverage], drop. If you're supposed to rush, rush," the coach said. "It's not hard. It's not hard to figure out which is left and which is right."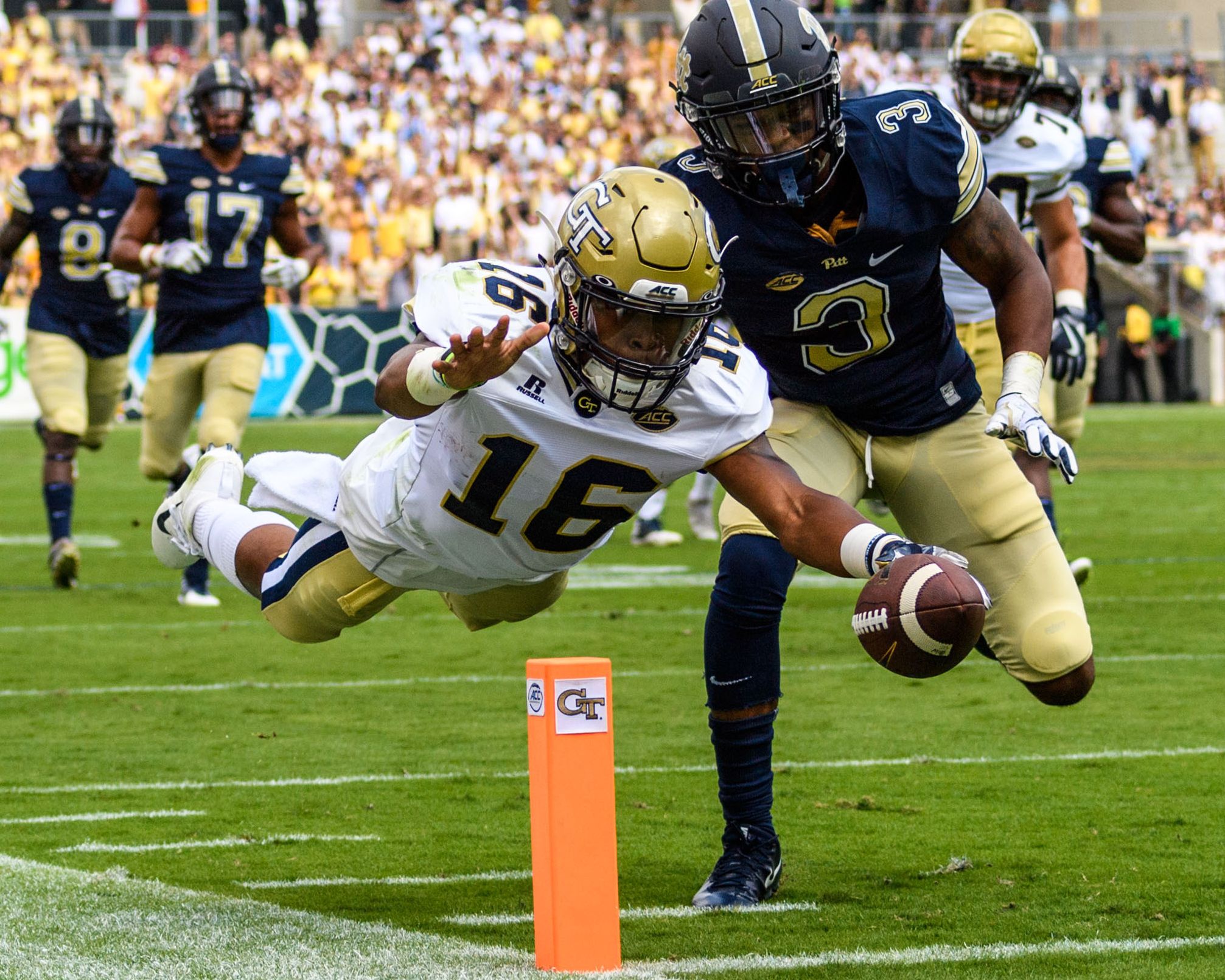 TaQuon Marshall's Superman-esque dive into the end zone highlighted Georgia Tech's 35-17 romp over Pitt last September in Atlanta
Tech has had an interesting series with Pitt, dating back 100 years.
Coached by the legendary Pop Warner, the Panthers beat the Jackets in 1918, '19 and '20, handing famed Tech head coach John Heisman three rare losses.
The Jackets of Bobby Dodd beat Pitt twice in 1956, first in the Sugar Bowl on Jan. 2, and then in the Gator Bowl, on Dec. 29.
When the Panthers visited Atlanta in '74 and '76 – the latter being a national championship season for Pitt, which was led by head coach Johnny Major and Heisman Trophy winner Tony Dorsett – Tech lost.
Since Pitt joined the ACC in 2013, the Jackets hold a 3-2 edge in the series, including a 1-1 mark at Heinz Field.
They walloped the Panthers, 35-17, last season in Atlanta, so a win on Saturday would start a streak against Pitt and end the skid away from home. As Johnson said, "This is one we need to win. It's a big game for us."
For its part, senior defensive end Anree Saint-Amour believes his unit can improve dramatically.
"Just lack of execution and that comes with learning a new defense and getting into a new system, but every game, we're going to get better," he said. "That was yesterday. Today's a new day."