By Matt Winkeljohn | The Good Word
Andrew Thacker's on the road a lot these days, hop-scotching the recruiting trail from nooks to crannies, yet Georgia Tech's new defensive coordinator seems perfectly at home in his new role without even knowing how the furniture will be arranged back on The Flats.
Shoot, he can't even tell you what the front door of the White & Gold house will look like when Tech opens the 2019 season at Clemson on Aug. 29.
But without yet having plotted out diagrams of alignment for the Jackets, the Cartersville native will tell you and any invader one thing straight up: Tech defenders are going to try to rob you. The Jackets shall be Thacker's Thieves.
Thacker served as defensive coordinator in both of Geoff Collins' years as head coach at Temple. Last season, the Owls led the nation in defensive touchdowns scored (eight), were No. 3 in turnovers forced (31), No. 3 in fumbles recovered (13) and No. 4 in the interceptions category (18).
"Everything is based on effort-based defense, and then we'll talk about things we'll prioritize. That will be about creating takeaways, get the ball," Thacker said recently. "We'll talk about it ad nauseum, we'll find ways to incentivize that.
"Probably the thing we're most proud about this past season, we ending up being No. 3 in takeaways in the country [and] Temple led the country in defensive touchdowns."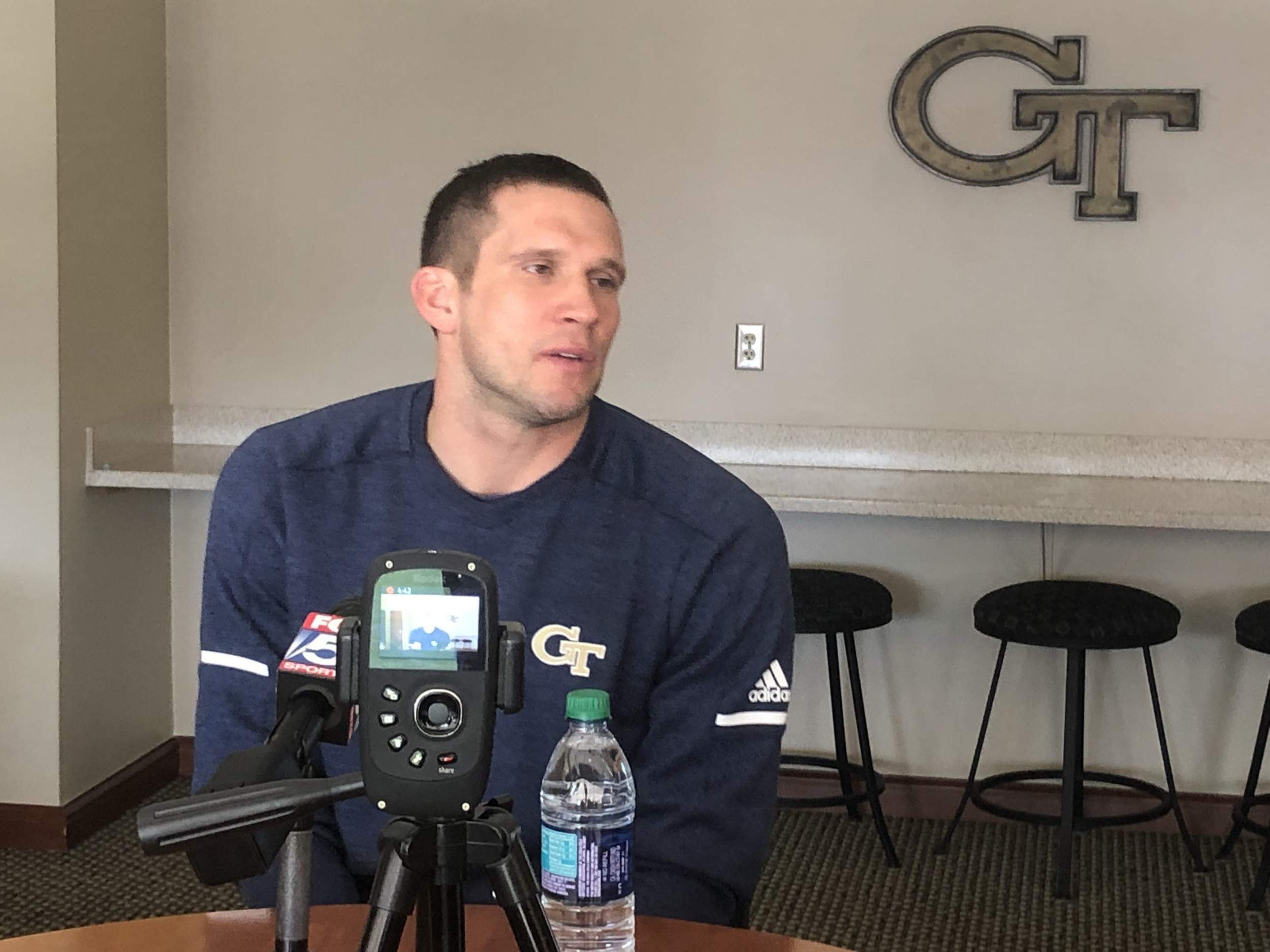 So, there is a different bent about Tech football, what with a new head coach whose background is rooted in defense more than offense, and when Collins hired Thacker – who played high school football for North Forsyth and Gainesville – he went with a familiar thief whose goal will be to defend by attacking.
Just don't ask how – at least not yet.
Thacker and the entire staff – including co-defensive coordinator Nathan Burton — have binge-watched more video on the Jackets than you might if you tried to stack every episode of Game of Thrones, Breaking Bad and House of Cards on top of each other.
They have ideas, but they don't yet have a detailed plan.
The Jackets based themselves in a 3-4 alignment last season, and ratcheted up their takeaways under 2018 coordinator Nate Woody.
But the defense is losing linemen Anree Saint-Amour, Kyle Cerge-Henderson, Desmond Branch, linebackers Brant Mitchell, Jalen Johnson and Victor Alexander and defensive backs Malik Rivera and Lamont Simmons, among others.
There's not a lot of video evidence of many players who are returning and, besides that, Thacker looks forward to seeing everything live with his own two eyes.
"We haven't completed that," he said of evaluating personnel and creating a template for the defense. "That's very preliminary. [There is a] focus on recruiting. That will be a little bit of a delayed project . . .
"If our best personnel tells us it's best to be a 3-3 structure, we'll do that. If it's 4-2-5,,if it's 3-4, we'll do that. The good thing is we have multiplicity in our system. We're not pigeonholed of only being a 3-4 structure, we're not pigeonholed into being a 4-2-5 structure. We were multiple in what we did at Temple."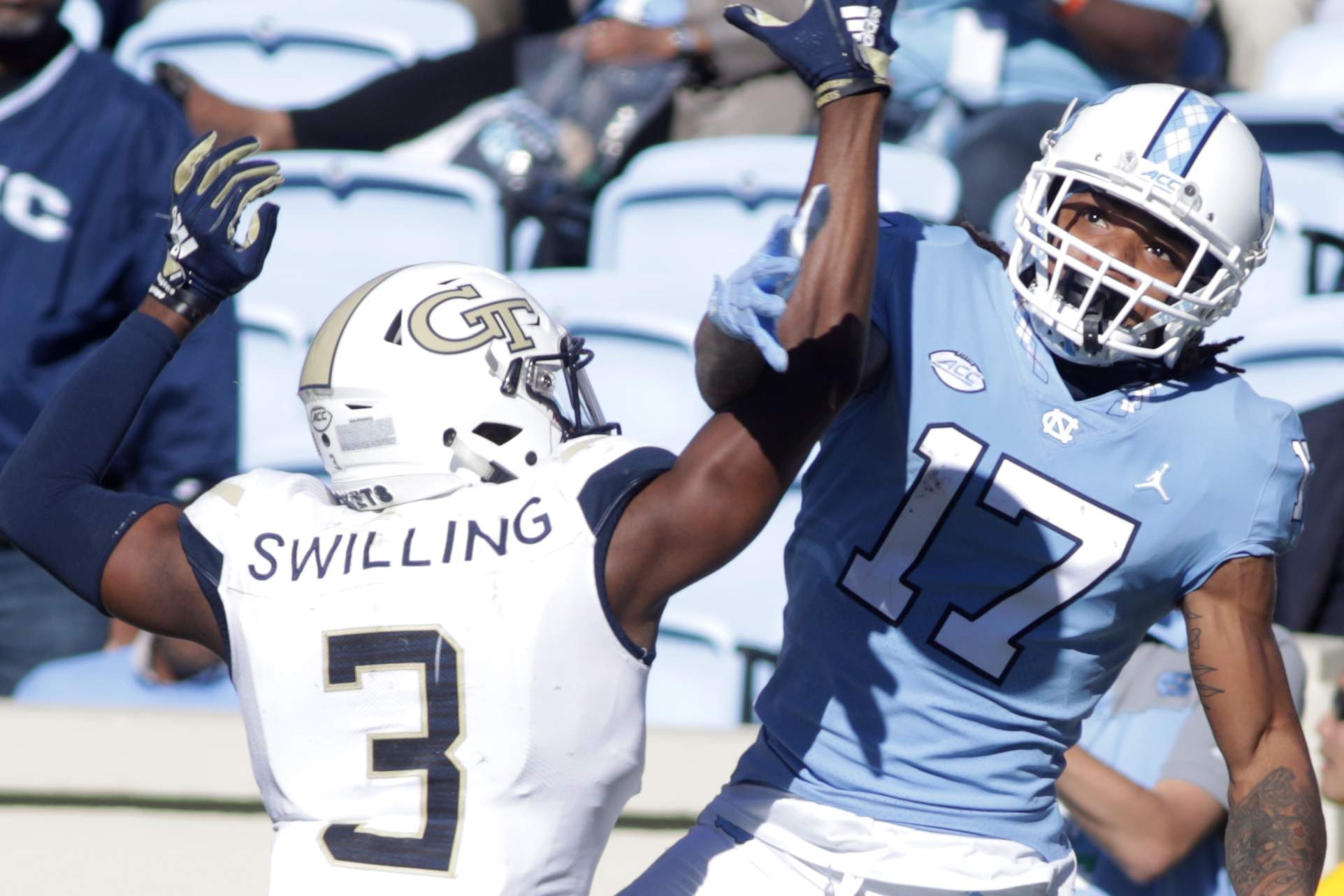 Sophomore Tre Swilling is one of only four defensive starters that returns for new coordinator Andrew Thacker in 2019
The only guarantee is that there will be changes. Thacker knows all about such things.
He's bumped around more than most coaches since playing defensive back for his stepfather, Bruce Miller, for three years at North Forsyth and then at Gainesville for his senior season, when the Red Elephants went to the semifinals in the state playoffs.
After a solid career as a safety at Furman, he worked as a graduate assistant at the University of Central Florida, where he met Collins – UCF's linebackers coach and recruiting coordinator at the time – and then at Oklahoma State.
He turned pro and went through one-year stops at Southern Mississippi, the NFL's Atlanta Falcons (as a defensive assistant in 2014, the last year of head coach Mike Smith), UCF again and Kennesaw State before Collins lured him to Philadelphia.
It goes without saying that Thacker and his wife, Liza, are more than happy to be where they are, with family close and in the midst of a recruiting area with which he is familiar. He recruited Atlanta while at Temple and he knows plenty about what's going on nearby.
Plus, "There's no place like home and certainly there's all the advantages that Atlanta has outside of it being home. It's just special. It's unique … " Thacker said. "That makes a difference.
"I've got a wife and a three-year-old girl and a one-year-old little boy and Mom and I are going to have some date nights now because we've got some babysitters!"
Regardless of comfort zone, Thacker – who has suggested he favors man-to-man coverage with a good share of press — will not flee change.
Much as Tech's offense will see movement with A-backs from former coach Paul Johnson's attack being considered as wide receivers or defensive backs, the defense figures to morph.
Thacker said the goal of the staff to help student-athletes be the "best versions of themselves" may include them playing both sides of the ball.
Think about this: New Orleans Saints wide receiver Keith Kirkwood, who has 13 catches for 209 yards and two touchdowns after being elevated from the practice squad this season, saw spot duty at defensive end at Temple.
Last fall, TU running back Rock Armstead played occasionally at linebacker, and, a couple years ago, linebacker Shaun Bradley carried the ball a few times as a back.
While all of this may prompt pondering about whether Georgia Tech linebacker Bruce Jordan-Swilling might play elsewhere (he was a fine high school running back, and returned a few kickoffs late last season), it also dovetails with the fact that Thacker is not likely to be a one-man, dictatorial defensive coordinator.
Even with Collins suggesting that he'll be less involved in the nuts and bolts of game-planning as he dials in on re-branding the Georgia Tech football program and recruiting, Thacker – who speaks quite quickly – will believe that when he sees it.
Regardless, he's looking forward to crafting a company of thieves and expects to have company with Burton and the boss as they design a new Ocean's 11 on The Flats.  That collaboration will likely mean that Tech's procedures will not be predictable.
"I have zero ego about [working under a head coach with a defensive background]," he said. "Coach Collins is the best defensive coordinator in the country, it just turns out he's a dynamic head coach as well. Any time Coach Collins wants to be in that room, I want him in there."